Department of Industrial Engineering
Department of Industrial Engineering
Bachelor of Science in Industrial Engineering (4 years)
The Bachelor of Science in Industrial Engineering (IE) program is designed to prepare the student for professional work in the design, improvement, installation, and maintenance of integrated systems of people, materials, information, equipment, methods, and energy. The curriculum covers the engineering and social sciences, principles, and methods of systems analysis and design, industrial management, and human behavior.
academician
design engineer
information analyst
methods analyst
operations research analyst
planning engineer
productivity consultant / specialist
project analyst
quality engineer
system analyst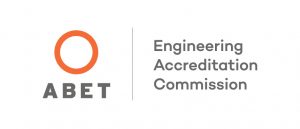 Accredited
Center of Development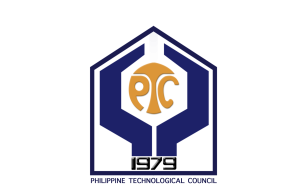 Full Accreditation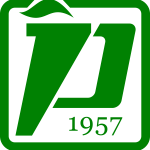 PAASCU Level III Accreditation
Vision, Mission & Objectives
Vision, Mission & Objectives
The Department of Industrial Engineering of the University of Santo Tomas envisions itself to be a teaching and research institute of Industrial Engineering. Enjoying a reputation of excellence and global acceptability and dedicated to the service of the church and society
The Department of Industrial Engineering of the University of Santo Tomas under the inspiration of its model, St. Thomas Aquinas, and its patron, Blessed Jordan of Saxony, affirms its commitment to the pursuit of truth and formation of technically competent and responsible Industrial Engineers dedicated to the service of the church, the country, and the world.
To assure the preparation of students in the following IE specializations: Production Engineering, Quality Engineering, Operations Research and Analytics, and Service Engineering

To promote academic excellence and competence by providing quality teaching-learning student experience and certification exam preparation

To cultivate Christian values as well as sense of professionalism and ethics

To raise the sense of responsibility of the students and the faculty in the preservation of the environment with the advancement of technology.

To lead in faculty's program for productivity and quality improvement in Engineering Education

To produce quality research outputs relevant to the field

To engage in community and extension services

To link the program to Industry, Government and Alumni

To strengthen the program by integrating internationalization initiatives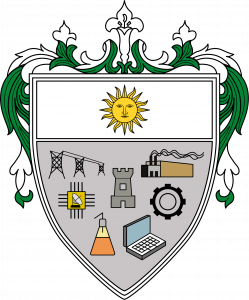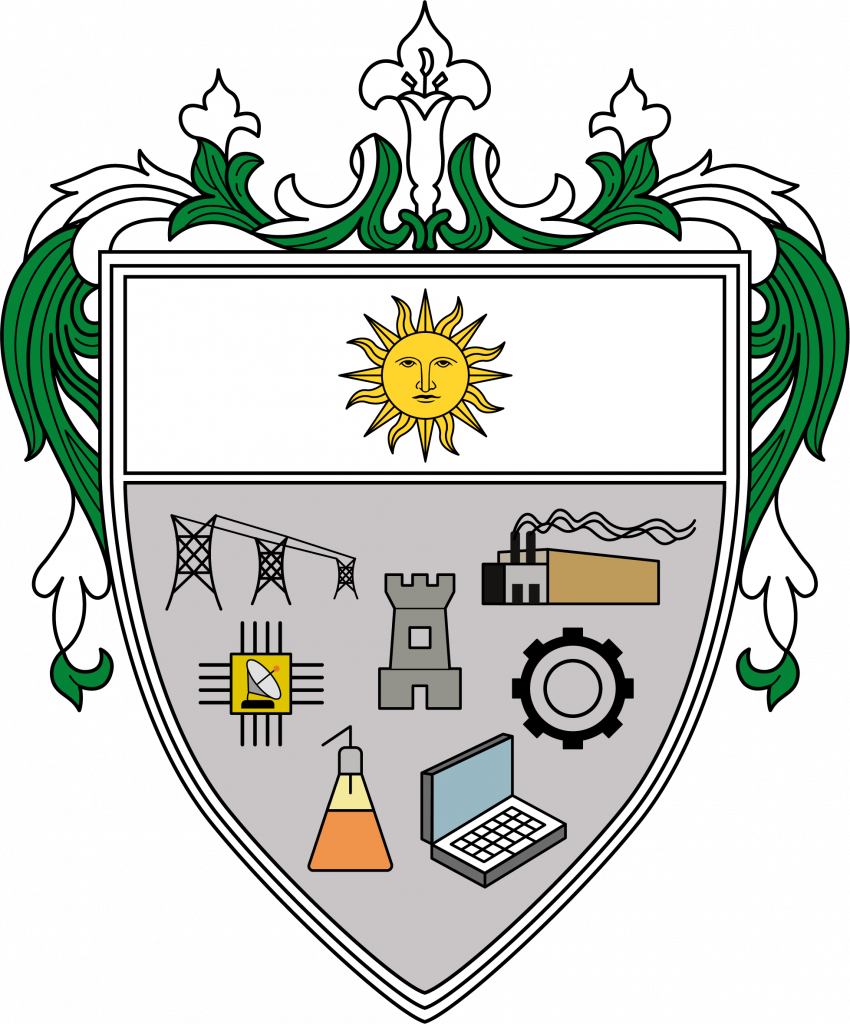 The Faculty of Engineering is looking for Full-time Faculty Members for the...
Read More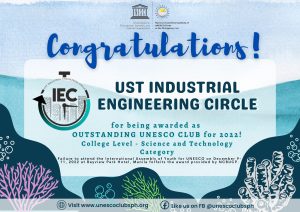 The UST Industrial Engineering Circle (UST IEC) brought pride to...
Read More
Thomasian Graduate Attributes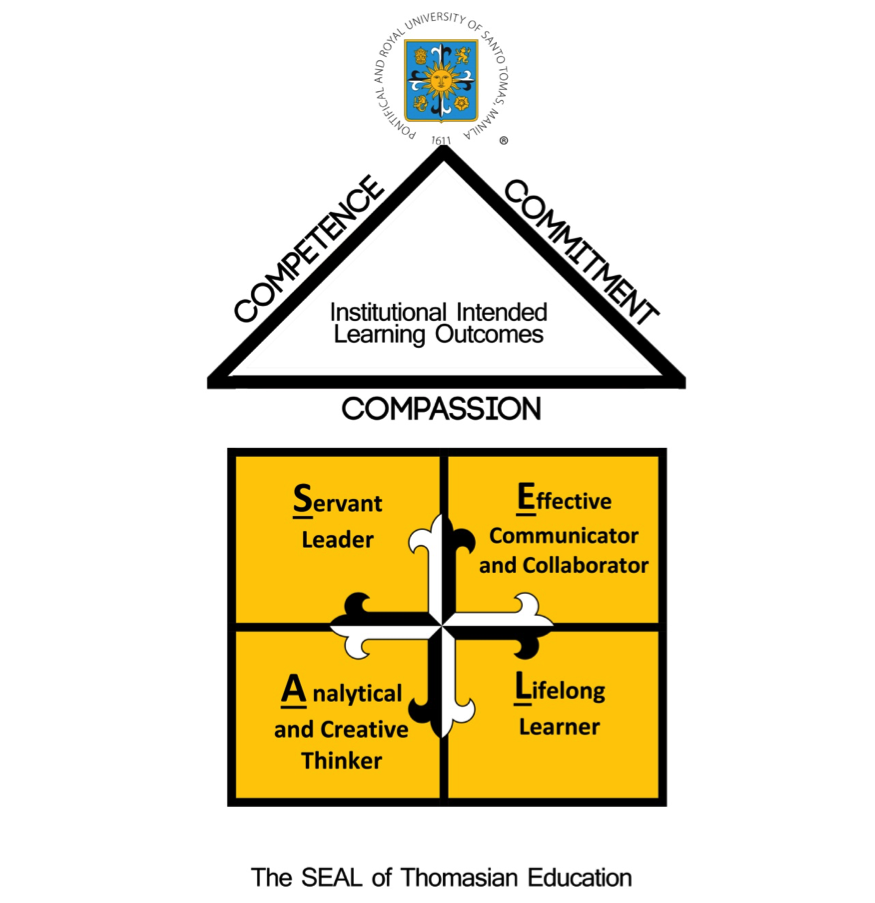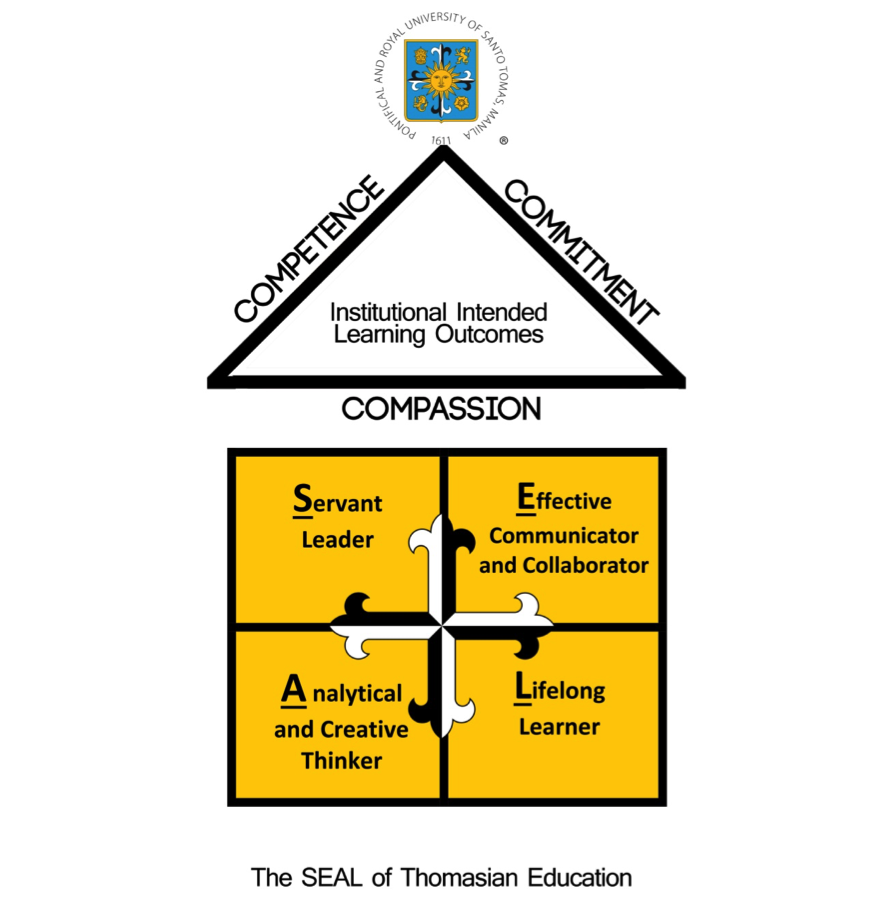 The University of Santo Tomas, in pursuit of truth, guided by reason and illumined by faith, dedicates herself to the generation, advancement, and transmission of knowledge to form competent and compassionate professionals committed to the service of the Church, the nation, and the global community.
I am a Thomasian. I carry the SEAL of Thomasian education. I am a Servant leader, an Effective communicator and collaborator, an Analytical and creative thinker, and a Lifelong learner. With Christ at the center of my formation as a Thomasian, I am expected to demonstrate the following Thomasian Graduate Attributes (ThoGAs): 
SERVANT LEADER 
Show leadership abilities to promote advocacies for life, freedom, justice, and solidarity in the service of the family, the local and global communities, the Church, and the environment. 
Implement relevant projects and activities that speak of Christian compassion to the poor and the marginalized in order to raise their quality of life. 
Show respect for the human person, regardless of race, religion, age, and gender. 
EFFECTIVE COMMUNICATOR AND COLLABORATOR 
Express oneself clearly, correctly, and confidently in various environments, contexts, and technologies of human interaction.
Work productively with individuals or groups from diverse cultures and demographics. 
Show profound respect for individual differences and/or uniqueness as members of God's creation. 
ANALYTICAL AND CREATIVE THINKER 
Show judiciousness and resourcefulness in making personal and professional decisions. 
Engage in research undertakings that respond to societal issues. 
Express personal and professional insights through an ethical and evidence-based approach. 
LIFELONG LEARNER 
Engage in reflective practice to ensure disciplinal excellence and professional development. 
Exhibit preparedness and interest for continuous upgrading of competencies required by the profession or area of specialization. 
Manifest fidelity to the teachings of Christ, mediated by the Catholic Church, in the continuous deepening of faith and spirituality in dealing with new life situations and challenges. 
Program Educational Objectives
Within five years after graduation, BS Industrial Engineering alumni from the University of Santo Tomas shall be engaged in the manufacturing or service industries, locally or abroad, in the following areas of specialization:
Production and Operations Management
Information and Systems Engineering
Quality Management Systems
Decision and Support Systems
Ergonomics
Sales and Marketing
Entrepreneurship
General and Engineering Management
Academe and research
They shall demonstrate the Thomasian values of compassion, commitment, and competence in their profession in the service of the Church, the nation, and the global community.
They shall exhibit the Thomasian traits of contemplative, creative and critical thinking; exemplary work ethics; practice lifelong learning for continuous development of oneself and the society.
Effectivity: A.Y. 2019-2020
An ability to identify, formulate, and solve complex engineering problems by applying principles of engineering, science, and mathematics
An ability to apply engineering design to produce solutions that meet specified needs, with consideration of public health, safety, and welfare, as well as global, cultural, social, environmental, and economic factors
An ability to communicate effectively with a range of audiences
An ability to recognize ethical and professional responsibilities in engineering situations and make informed judgments, which must consider the impact of engineering solutions in global, economic, environmental, and societal context
An ability to function effectively in a team whose members together provide leadership, create a collaborative and inclusive environment, establish goals, plan tasks, and meet objectives
An ability to develop and conduct appropriate experimentation, analyze and interpret data, and use engineering judgment to draw conclusions
An ability to acquire and apply new knowledge as needed, using appropriate learning strategies
The Industrial Engineering Program PEOs are reviewed by an Industry Advisory Council (IAC). The program's IAC is composed of employers, alumni and faculty members. Its main role is to ensure the needs of the constituencies are met.
Mr. Robert S. Lao (President, Alveo Land Corp. and Bellavita Land Corp. / Group Head of Residential Business - Ayala Land)

Engr. Lynorre C. Giron, MSIE (Human Resources Director - Artesyn Embedded Technologies, Inc.) 
Ms. Jade Jalmasco, MBA (Associate Director and Practice Head - RGF Executive Search Philippines)

Engr. Damirson A, Co, MSIE, PIE (Enterprise Solutions and Quality Management Head - Ginebra San Miguel Inc.)

Mr. Jeffrey Lamadrid, MBA, CBAP (Assistant Vice President - Lead Business Analyst - Deustche Bank) 
Hon. Fortunato S. Dela Peña (Secretary - Department of Science and Technology, Republic of the Philippines)
Prof. Nancy D. Eleria Ph.D. (Professor, University of Santo Tomas - Graduate School)
Professional Organization
Engr. Vicente L. Co, ASEAN Eng (President, Philippine Plastics Industry / Former President, PIIE/ Trustee, IECB)
Engr. Jesselyn Alcain (Assistant Vice-President / Continuous Improvement Lead – Standard Insurance Co., Inc.)
Engr. Lynnore Giron (Human Resource Director – Artesyn Embedded Technologies)
Engr. Perfecto Espiritu (General Manager – Hastings Motors Corporation)
Engr. Damirson Co (Enterprise Solutions and Quality Management Head – Ginebra San Miguel, Inc.)
Engr. Cecilia Abris (Regional Logistics Manager – PVM)
Engr. Enrique Bautista III (Business Process Manager – Philweb Corporation)
Engr. Melissa Karen Mico (Corporate Planning Officer – Vista Land and Escapes, Inc.)
Administrators and Faculty Members
Administrators and Faculty Members

Mr. Dan Jay R. Sisayan
Office Clerk
The
UST Faculty of Engineering opened the BS Industrial Engineering (BSIE) program in 1977. In the beginning, the program was directly supervised by then Dean Francisco G. Reyes. By the early 1980s, the Division of IE had been created, and its first Head, Engr. Cielo T. Roque had been appointed. In 1988, the engineering divisions in UST were renamed into departments; the Division of IE, thus, became the Department of IE that year.
Close to four-and-a-half decades from its establishment, the UST BSIE program now holds the recognition of various local and foreign accrediting bodies, relative to IE teaching, research, and services. The Commission on Higher Education (CHED), in 1999, named the UST Faculty of Engineering Center of Development in Industrial Engineering. Accreditation efforts for all UST engineering programs with the Philippine Accrediting Association of Schools, Colleges, and Universities (PAASCU) began in 2002. The BSIE program presently holds Level III accreditation status, received in 2015 from PAASCU. In 2017, the UST BSIE program obtained full accreditation from the Philippine Technological Council (PTC), a provisional signatory of the Washington Accord.
Recently, in 2020, the Industrial Engineering program, together with the five other engineering programs of the University, earned the approval of the Engineering Accreditation Commission of the Accreditation Board for Engineering and Technology (ABET). ABET is the global accreditor of college and university programs in applied and natural science, computing, engineering, and engineering technology.
The UST Department of Industrial Engineering looks to the future with a strong commitment to the formation of God-fearing and competent Industrial Engineers with a caring heart for others and the environment.
Mabini, M.C. The University of Santo Tomas Faculty of Engineering, The First 100 Years. Manila: University of Santo Tomas Publishing House; 2012.
© Copyright 2020 . UNIVERSITY OF SANTO TOMAS. All Rights reserved.
Powered by: UST COMMUNICATIONS BUREAU