With the theme "Gurong May Dignidad, Turong May Kalidad" (A Teacher with Dignity, Teaching with Quality), the 18th Dangal ng UST (Honor of UST) Awards recognized the faculty members who excelled in their respective fields and earned honors inside and outside the country, as well as served the University for at least two decades, last May 11, 2017 at the Medicine Auditorium.
"Napakalaki ang nagawa at naiambag ng mg Tomasinong guro sa mga ma-tagumpay na Tomasino. Sigurado ako na kabilang kayo sa inspirasyon ng mga mag-aaral sa kanilang pagsusumikap na makamit at matupad ang kanilang mga pangarap. Hindi lamang iyan maliit na bagay," Rector Rev. Fr. Herminio V. Dagohoy, O.P. said in his message. "Pinapatunayan ito ng napakaraming mahuhusay at kapuri-puring indibidwal na mula sa iba't-ibang larangan na nagmula sa ating pamantasan,"
According to Fr. Dagohoy, the theme underscores the relationship between dignity and quality. "Ang dignidad ng guro ay nakabase sa kanyang atas, sa kanyang mandato, sa kanyang responsibilidad; samakatuwid, sa kanyang tungkuling ginagampanan: ang paghubog sa mga kamalayan upang masusing timbangin ang katwiran at turuan ang mag-aaral kung papaano umiwas sa panlilinlang, manindigan sa katotohanan, at ipaglaban ang katarungan."
"Ang saligan ng dignidad ng pagiging guro ay ayon sa antas ng kanyang pagtupad sa atas na iginagawad sa kanya; ito ang nag-aangat sa guro. Ginagawa siyang kakaiba at nagtatangi sa kanya sa ibang mga larangan," Dagohoy added.
Give Students a Chance
Honorary Speaker Prof. Gerardo Janairo, PhD, De La Salle University Chancellor and a Thomasian from the College of Science, recalled his days in UST as a BS Chemistry student who spent his college days with a bad start. Janairo turned this around, though, credited his Thomasian professors for giving him a lending hand in times of trouble and most especially in retaking the bar exams. "Sila ang mga tao na nagbigay ng inspirasyon sa akin at nagbigay ng pag-asa," he said.
As a professor, Janairo said he preferred to handle "repeater sections" and underscored his love for both his profession and his students. Being a product of second chances himself, Janairo justified that he will do what he can to bring the best of his students: "Buong tiyaga ko silang tinuturuan, tinutulungan, at binibigyan ng pag-asa. Marami akong mag-aaral na nabigyan ng pagkakataon tulad ng ginawa ng dati kong mga guro sa UST."
The annual recognition program conferred the following awards: Gawad Benavides (for length of service); Gawad San Alberto Magno (for outstanding research); Gawad Santo Domingo (for outstanding community development program); Gawad San Lorenzo Ruiz (for outstanding achievement, as recognized nationally or internationally); and the Hall of Fame Award (for receiving three awards in the Dangal ng UST, except the Gawad Benavides).
Gawad Benavides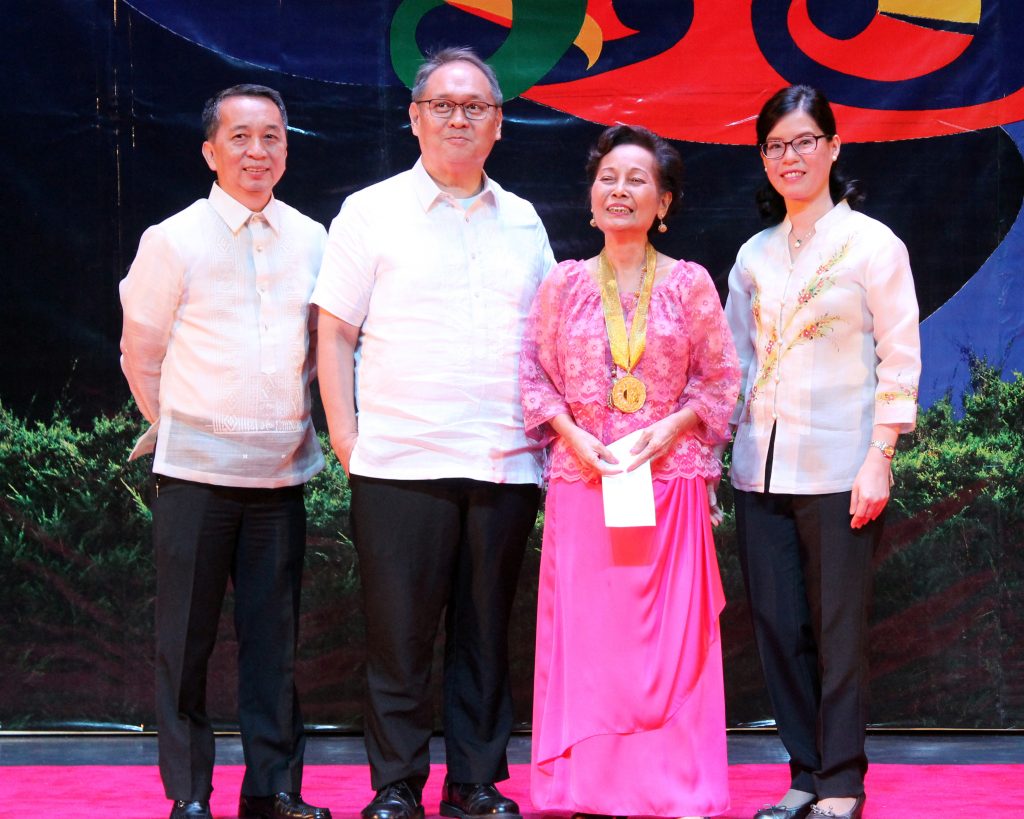 20 years
Asst. Prof. Reverendo R. Vargas (Institute of Religion)
Asst. Prof. Fredeswindo R. Medina (College of Tourism and Hospitality Management)
Asst. Prof. Danilo C. Guinto (Faculty of Engineering)
Asst. Prof. Beverly Sarausad (Faculty of Engineering)
Asst. Prof. Naomi Paz S. Nemenzo (Conservatory of Music)
Asst. Prof. Ariel S. Sta. Ana (Conservatory of Music)
Asst. Prof. Maria Antoinette L. Rosete (College of Commerce and Business Administration)
Asst. Prof. James Rabago (College of Nursing)
Ms. Maria Teresa Ramos (Junior High School)
Asst. Prof. Marie Anne Lourdes N. Guanzon (UST-Alfredo M. Velayo College of Accountancy)
Asst. Prof. Jose L. Ngo Jr. (UST-Alfredo M. Velayo College of Accountancy)
Asst. Prof. Marcelita Apolonia (Institute of Physical Education and Athletics)
Asst. Prof. Diana Dy (Institute of Physical Education and Athletics)
Asst. Prof. Elizabeth H. Arenas, PhD (College of Education)
Asst. Prof. Arlene C. De Leon (College of Education)
Asst. Prof. Elenita C. Mendoza (College of Education)
Mrs. Lucila B. Adriano (Miguel de Benavides Library)
Mrs. Arlene Matias (Miguel de Benavides Library)
Ms. Michelle San Gabriel (Miguel de Benavides Library)
Ms. Arni M. Agustin (College of Science)
Prof. Thomas Edison E. Dela Cruz, Dr. rer. nat. (College of Science)
Prof. Corazon Menguito, PhD (College of Science)
Asst. Prof. Ma. Victoria B. Pangilinan (College of Science)
Asst. Prof. Richard Thomas B. Pavia, PhD (College of Science)
Asst. Prof. Jennifer T. Angeles (College of Architecture)
Asst. Prof. Armando L. Miranda (College of Architecture)
Asst. Prof. Enrique C. Sta. Maria (College of Architecture)
Mr. Cesar M. Velasco, Jr. (College of Architecture)
Asst. Prof. Jocelyn A. Amongo (Faculty of Arts and Letters)
Asst. Prof. Mildred Antonio (Faculty of Arts and Letters)
Assoc. Prof. Clarence M. Batan, PhD (Faculty of Arts and Letters)
Mrs. Aurora Cristina P. Bermudez (Faculty of Arts and Letters)
Asst. Prof. Rhodoralynn Lintag (Faculty of Arts and Letters)
Asst. Prof. Andres Julio V. Santiago, Jr., PhD (Faculty of Arts and Letters)
Asst. Prof. Maximo B. Sauz, Jr. (Faculty of Arts and Letters)
Asst. Prof. Noel Martin Bautista, MD (Faculty of Medicine and Surgery)
Asst. Prof Celeste Mae Campomanes, MD (Faculty of Medicine and Surgery)
Asst. Prof Dakila P. De Los Angeles, MD (Faculty of Medicine and Surgery)
Asst. Prof . Lerrie D. Gutierrez, MD (Faculty of Medicine and Surgery)
Prof. Agnes Cecille G. Llamas, MD (Faculty of Medicine and Surgery)
Asst. Prof. Dennis G. Lusaya, MD (Faculty of Medicine and Surgery)
Asst. Prof. Alberto P. Paulino, Jr., MD (Faculty of Medicine and Surgery)
Asst. Prof. Alberto V. Molano, MD (Faculty of Medicine and Surgery)
Mr. Juan Ramon V. Perez de Tagle, MD (Faculty of Medicine and Surgery)
Asst. Prof Roberto Uy, MD (Faculty of Medicine and Surgery)
25 years
Assoc. Prof. Ma. Ninia I. Calaca (College of Science)
Asst. Prof. Rafael Alfonso (College of Science)
Asst. Prof. Leonila Wilhelmina N. Baltazar (College of Education)
Asst. Prof. Myra D. Alvarado (Institute of Physical Education and Athletics)
Asst. Prof. Gilda R. Kamus (Institute of Physical Education and Athletics)
Asst. Prof. Emmanuel D. Batoon (Faculty of Arts and Letters)
Asst. Prof. Antonio Chua (Faculty of Arts and Letters)
Asst. Prof. Emerito Gonzales (Faculty of Arts and Letters)
Asst. Prof. Emmanuel Lopez, PhD (Faculty of Arts and Letters)
Prof. Robert A. Montana, PhD (Faculty of Arts and Letters)
Asst. Prof. Rogelio O. Almira Jr. (Faculty of Engineering)
Prof. Philipina A. Marcelo, PhD (Faculty of Engineering)
Asst. Prof. Joycelyn Poblete (Faculty of Engineering)
Asst. Prof. Dolores T. Andres (Conservatory of Music)
Ms. Cynthia Justinia P. Yumul (Conservatory of Music)
Mr. Proceso Yusi (Conservatory of Music)
Mr. Rodolfo Ventura (College of Architecture)
Asst. Prof. Avelino D. Micu (College of Architecture)
Assoc. Prof. Mary Caroline Castano, PhD (College of Commerce and Business Administration)
Asst. Prof. Carol Geraldine C. Pablo (Faculty of Pharmacy)
Asst. Prof. Perla P. Cosme (Institute of Information and Computing Sciences)
Mr. Cesar D. Jucutan (Education High School)
Prof. Marcelino Banzon (Faculty of Medicine and Surgery)
Prof Mary Jocylyn Bautista (Faculty of Medicine and Surgery)
Asst. Prof. Eduardo Caguioa (Faculty of Medicine and Surgery)
Assoc. Prof. Ruben Cardenas (Faculty of Medicine and Surgery)
Asst. Prof. Ma. Rosario Irene D. Castillo (Faculty of Medicine and Surgery)
Prof. Ditas Christina Decena (Faculty of Medicine and Surgery)
Asst. Prof.Nilo Delos Santos (Faculty of Medicine and Surgery)
Prof. Olivia Go (Faculty of Medicine and Surgery)
Prof. Isias A. Lanzona (Faculty of Medicine and Surgery)
Prof. Redario C. Laygo (Faculty of Medicine and Surgery)
Asst. Prof. Rosella L. Montano (Faculty of Medicine and Surgery)
Prof. Alejandro V. Pineda Jr. (Faculty of Medicine and Surgery)
Asst. Prof. Estrelita J. Ruiz (Faculty of Medicine and Surgery)
Prof. Anniela Y. Soliven (Faculty of Medicine and Surgery)
Prof. Consuelo G. Suarez (Faculty of Medicine and Surgery)
Assoc. Prof. Edgardo Tan (Faculty of Medicine and Surgery)
Assoc. Prof. Ronald A. Yutangco (Faculty of Medicine and Surgery)
Prof. Mauel B. Zacarias (Faculty of Medicine and Surgery)
30 years
Prof. Christina A. Binag (College of Science)
Asst. Prof. Cecilia M. Villaraza (College of Science)
Assoc. Prof. Rebecca Adri (Institute of Physical Education and Athletics)
Assoc. Prof. Ogden Javier (Faculty of Engineering)
Assoc. Prof. Raul Ortega (Institute of Religion)
Asst. Prof. Maria Vicenta D. Sanchez (College of Architecture)
Asst. Prof. Teresita D.L. Altre (Faculty of Medicine and Surgery)
Prof. Ma. Minerva P. Calimag (Faculty of Medicine and Surgery)
Prof. Mary Agnes S. Regal (Faculty of Medicine and Surgery)
Prof. Clara R. Rivera (Faculty of Medicine and Surgery)
Assoc. Prof. Stephen Querico A. Buni (College of Fine Arts and Design)
35 years
Ms. Marivic G. Usita (Miguel de Benavides Library)
Prof. Arlen A. Ancheta (Faculty of Arts and Letters)
Asst. Prof. Pilar I. Romero (College of Education)
Assoc. Prof. Angelo A. Morsquillo (Faculty of Engineering)
Prof. Edna C. Quinto (Faulty of Engineering)
Assoc. Prof. Emmanuel G. Fiedecan (Institute of Religion)
Prof. Maribel Nonato (College of Science)
Assoc. Prof. Felix Michael C. Silbor (Institute of Physical Education and Athletics)
Asst. Prof. Ramon Javier (Faculty of Medicine and Surgery)
Asst. Prof. Ma. Cristina C. Doria (Faculty of Pharmacy)
40 years
Prof. Alicia M. Aguinaldo (College of Science)
Prof. Lucila O. Bance (College of Science)
Asst. Prof. Angelina A. Silverio (College of Science)
Prof. Alfredo P. Co (Faculty of Arts and Letters)
Prof. Evelyn R. Laurito (Faculty of Engineering)
Prof. Aristea V. Bayquen (Faculty of Pharmacy)
Assoc. Prof. Enrique D. Barcelo (Conservatory of Music)
Prof. Julie Ann A. Hallazgo (Conservatory of Music)
Asst. Prof. Edna B. Sanchez (Institute of Physical Education and Athletics)
Assoc. Prof. Digna S. Sese (Institute of Religion)
Gawad San Alberto Magno
Asst. Prof. Rey Donne S. Papa, PhD (College of Science)
Prof. Raymond Rosales, MD (Faculty of Medicine and Surgery)
Asst. Prof. Mary Beth B. Maningas, PhD (College of Science)
Assoc. Prof. Oliver B. Villaflores, PhD (College of Science)
Chuckberry Pascual, PhD (Faculty of Arts and Letters)
Prof. Alfredo P. Co, PhD (Faculty of Arts and Letters)
Joselito D. Delos Reyes, PhD (Faculty of Arts and Letters)
Gawad Santo Domingo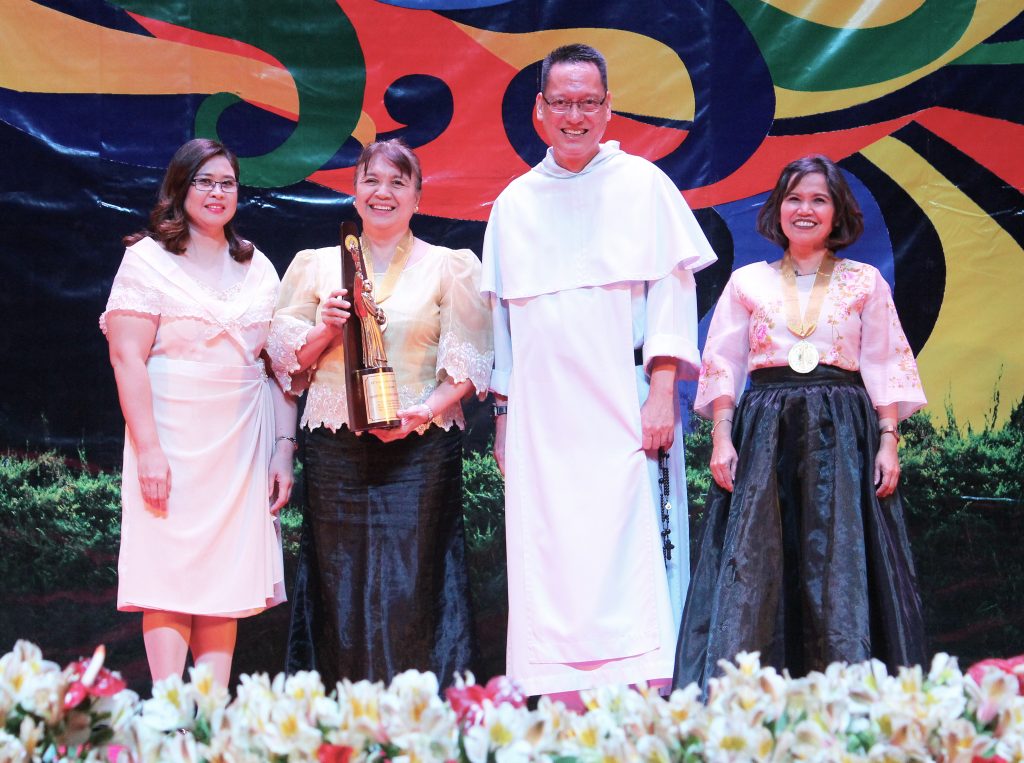 People Empowerment for Arthritis and Lupus (PEARL) (Faculty of Medicine and Surgery)
Gawad San Lorenzo Ruiz
Joselito D. Delos Reyes, PhD (Faculty of Arts and Letters)
Asst. Prof. Mary Beth B. Maningas, PhD (College of Science)
Prof. Fortunato B. Sevilla III, PhD (College of Science)
UST Faculty of Medicine and Surgery Life Support Training Center
Gawad Hall of Fame
Asst. Prof. Allan Patrick G. Macabeo, Dr. rer. nat. (College of Science)