Asst. Prof. Faye Martel-Abugan is the Assistant Director of the UST Communications Bureau and the founding head of Tiger Media Network, the broadcasting arm of the University of Santo Tomas. Her passion is mentoring young people who are keen on developing their skills and talents in broadcasting and production. Under her guidance, UST Tiger Radio and Tiger TV have won several awards locally and internationally including 3 Excellence citations from the Student Quill Awards 2020, 11 Student Quill Awards in 2021; and awards from the Intercollegiate Broadcasting Awards from New York City, USA. Aside from being a certified Media Trainor of the Radio Netherlands Training Center, she is also seasoned broadcast producer with over 25 years of experience in broadcast, audio-video and events production.
She teaches professional courses for the Department of Media Studies and Communication at the Faculty of Arts and Letters. She is a multimedia storyteller.  To keep her sanity, she creates short videos on Instagram and vlogs about the life of a middle-aged single mom on her Youtube channel, FayeTH.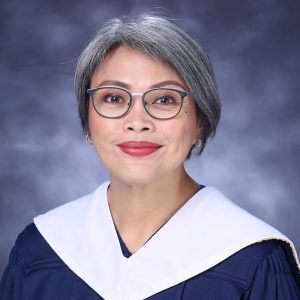 Asst. Prof. Faye Martel Abugan, M.A.
Department of Communication and Media Studies | UST Communications Bureau
Degrees
Master of Arts in Communication, Ateneo de Manila University, Quezon City, 2008
Bachelor of Arts in Communication Arts, University of Santo Tomas – Manila, Philippines, 1993
Eligibility
Teachers Certificate Program (9 Units earned), University of Santo Tomas – Manila, Philippines
Short Course on Training the Trainers, Radio Netherlands Training Center, 2008
Short Course on Educational Program Production, Radio Netherlands Training Center, 2006
Paper Presentor/Co-Author, "Asian Media Project for Media Literacy and Cross Cultural Communication in 5 Countries", Media Education Summit 2018, Hongkong Baptist University
Youth and Media

Crossmedia communication

Multi-media storytelling

Hallyu

Media Education

Campus Broadcasting

Intercultural Communication
Introduction to Communication

Communication Theory

Broadcast Principles

Writing for Radio and Television 

Radio Production 

TV Production 



Dangal Awardee, Service Awardee for 25 Years, University of Santo Tomas, 2021
Finalist, Best College Television Adviser, Intercollegiate Broadcasting System Len Mailloux Management Awards (2021)
Member, Intercollegiate Broadcasting System, New York, USA
Member, College Media Advisers, New York, USA
Member, Philippine Association of Communication Educators (PACE)
Consultant, FLM Creatives and Production
Acting Station Manager, UST Tiger Radio, University of Santo Tomas
© Copyright 2020 . UNIVERSITY OF SANTO TOMAS. All Rights reserved.
Powered by: UST COMMUNICATIONS BUREAU