Asst. Prof. Richard Thomas B. Pavia, Jr., PhD, presented the University's "BEST" response for studying Philippine biodiversity and ecosystems in the Nagoya City University (NCU) Contact Points Symposium 2019, where UST's Biodiversity, Ecology, Systematics, and Taxonomy (BEST) research interest group was featured.
Pavia's poster listed the priority research areas of BEST side by side with the lead proponent of each area. All proponents are faculty members of the Department of Biological Sciences of the College of Science.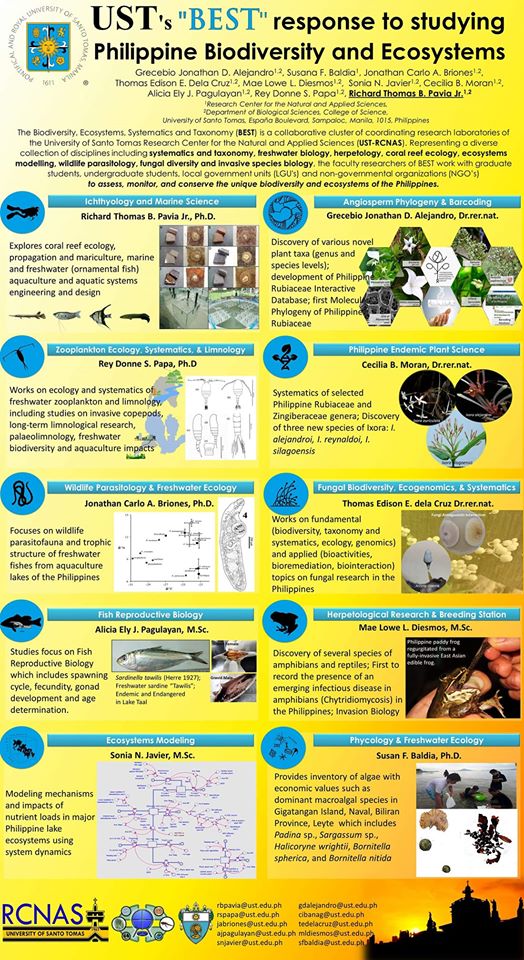 The BEST research areas and their proponents are the following:
Ichthyology and Marine Science (Asst. Prof. Richard Thomas B. Pavia, Jr., PhD)
Angiosperm Phylogeny and Barcoding (Prof. Grecebio Jonathan D. Alejandro, Dr. rer. nat.)
Zooplankton Ecology, Systematics, and Limnology (Prof. Rey Donne S. Papa, PhD)
Philippine Endemic Plant Science (Prof. Cecilia B. Moran, Dr. rer. nat.)
Wildlife Parasitology and Freshwater Ecology (Mr. Jonathan Carlo A. Briones, PhD)
Fungal Biodiversity, Ecogenomics, and Systematics (Prof. Thomas Edison E. dela Cruz, Dr. rer. nat.)
Fish Reproductive Biology (Assoc. Prof. Alicia Ely J. Pagulayan, MSc)
Herpetological Research and Breeding Station (Asst. Prof. Mae Lowe L. Diesmos, MSc)
Ecosystems Modeling (Asst. Prof. Sonia N. Javier, MSc)
Phycology and Freshwater Ecology (Assoc. Prof. Susana F. Baldia, PhD)
The BEST team has worked with graduate and undergraduate students, local government units, and non-governmental organizations for studies and programs all over the country. Researchers have likewise received grants from local and international bodies, and outputs have included, among others, the discovery of various novel plant taxa; studies on palaeolimnology, freshwater diversity, and aquaculture impacts; discovery of three new species of Ixora; and discovery of several species of amphibians and reptiles, among others.