Shifting from waste reduction to waste utilization, the University of Santo Tomas College of Science faculty members and researchers Asst. Prof. Jolleen Natalie I. Balitaan and Prof. Karen S. Santiago, Ph.D., recently developed self-healing injectable hydrogels for wound healing application. They synthesized 'modified β-chitin' from a marine bio-waste product, squid pens, and fabricated acrylamide-modified β-chitin/alginate dialdehyde, which can be used for accelerated healing of wounds.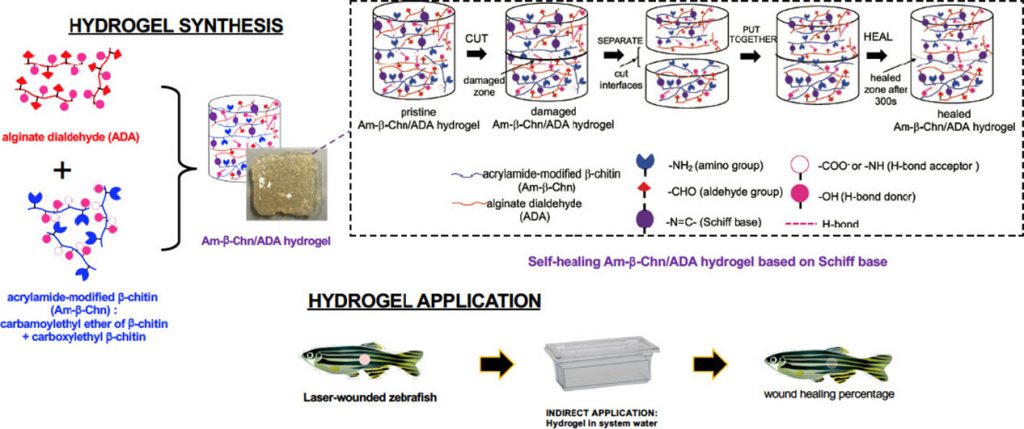 This study's biorefinery of a renewable resource like squid pens (Uroteuthis duvauceli gladii) to a wound-healing hydrogel is a new way to approach the ecological imbalance from the seafood industry's waste by-products. Squid pens, in particular, were chosen because these discards, aside from being abundant, also contain high amount of chitin in β-form.
Experimental procedures on zebrafish, which were approved by the Committee for Animal Experimentation of the Chung Yuan Christian University, showed that application of the synthesized hydrogels to laser-ablated full-thickness wounds led to accelerated healing, "more than twice the wound healing percentage (WHP) of the control."
The resulting hydrogels possess excellent swelling ratio, injectability, biocompatibility, and self-healing property, which mean that they can "absorb wound exudates, provide a moist environment to the wound bed and promote the diffusion of nutrients, bioactive molecules and wastes within their network."
The research project was done in collaboration with Chung Yuan Christian University researchers Prof. Jui-Ming Yeh, Ph.D., who was Balitaan's dissertation co-adviser during her Manila Economic and Cultural Office and Taiwan Economic and Cultural Office (MECO-TECO) Sandwich Scholarship Program in Taiwan, and Prof. Chung-Der Hsiao, Ph.D., who aided with the methodology on laser ablation of zebrafish and imaging software.
Asst. Prof. Balitaan is currently a Ph.D. Chemistry candidate at the UST Graduate School and teaches at the Department of Chemistry. Prof. Santiago, who also teaches at the Department of Chemistry and is a resident researcher of the Research Center for the Natural and Applied Sciences, is her dissertation co-adviser, and also serves the University as the Associate Director of the Office of International Relations and Programs.