University of Santo Tomas (UST) Faculty of Engineering mentor Engr. Anthony James Bautista, Ph.D., is now developing an improved hospital assistance robot with bacterial and viral disinfection functionalities in addition to its telepresence features.
The first version of the Logistic Indoor Service Assistant (LISA) robot first garnered attention in April 2020 for aiding frontliners with physically distanced communication between a COVID-19 patient and the medical staff. Equipped with a smart tablet mounted on a mobile base that can be controlled remotely from five to ten meters away, LISA enables communication via internet-based platforms such as Skype, Viber or Facetime. It also has a compartment box that allows delivery of medicines to conscious and stable patients.
Now in the process of creating its third version, the LISA robot is developed through funding by the Department of Science and Technology – Philippine Council for Industry, Energy and Emerging Technology Research and Development (DOST-PCIEERD) in partnership with Thomasian cardiologist Dr. Rodrigo C. Santos of the Pasig Doctors Medical Center.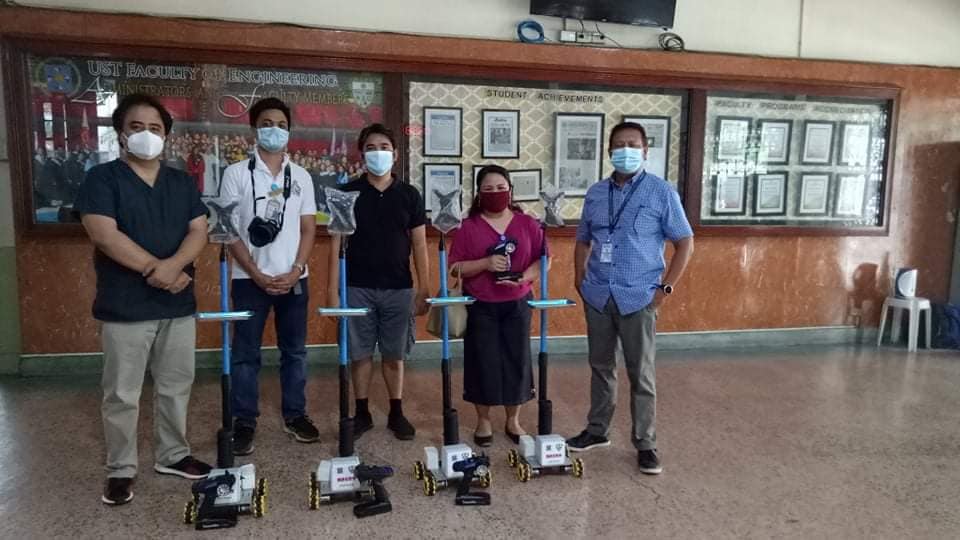 "Last March 2020, DOST-PCIEERD announced a call for proposals for immediate response to COVID19 pandemic, and I submitted a proposal titled LISA robot: Logistic Indoor Service Assistant Telepresence Robot," shared Bautista, adding that in May, they were granted funds to develop the LISA robots for public hospitals in the Philippines.

"Using the funding we received from the DOST-PCIEERD, we will design the new model to be multi-functional, meaning the robot will not only be a remote controlled telepresence robot, but can also be used to disinfect bacteria/viruses in a room. With this plan, we will do our best to make the LISA robot affordable," said Bautista.
DOST-PCIEERD approved a three-year project for improved LISA robots that will begin in 2021. According to Bautista, "With the funding [from PCIEERD], we may be able to develop a fully autonomous LISA robot. The LISA robots that are being deployed now are at Level 1 automation, or remote – controlled robots. Next year, we will include Level 2 automation that will allow the robot to be controlled anywhere in the world as long as there is a Wi-Fi connection, and then Level 3 automation which will allow the robot to create a map of the hospital and navigate to different locations autonomously using a Light Detection and Ranging [LIDAR] sensor."
Bautista thanked the UST Faculty of Engineering, especially the Mechanical Engineering Department, for being supportive of his work through providing the facilities to build and test the robot and offering feedback to improve the functionality of the robot.
The University of Santo Tomas Hospital (USTH) and Pasig Doctors Medical Center were the first batch to receive the first version of LISA robots on April 6, 2020, while the second version of LISA robots were deployed on June 20, 2020 to The Premier Medical Center, Binangonan Lake View Medical Center, Pasig Doctors Medical Center and the Marikina Valley Medical Center.
"The next version will be deployed hopefully in the last week of August 2020," said Bautista.
Having been used in medical practice by doctors and nurses in the aforementioned hospitals, the LISA robot was then improved according to their feedback. Bautista explained, "To name a few [improvements], we modified the base by using four independently driven wheels. The wheels used were Mecanum type, which is a special wheel that will allow the robot to turn efficiently in a single spot. We also improved the wiring connections by making it neatly enclosed in a casing. We also made the tablet adjustable into a different height and made the holder flexible to allow adjustments."
Despite the increased demand and practical use of his invention, Bautista was firm in his commitment to ensure open – access to LISA without copyright exclusivity.
"I will be very much willing to share the technology," he emphasized, saying that "My personal objective for the first versions of LISA robots with Level 1 automation is that it can be accessed by anyone, copied, or improved, because of the COVID-19 pandemic that our country is facing right now."
"I am very thankful to our University for their full support in this project. I hope that the LISA robot will serve as an alternative tool that our medical front liners can utilize for their fight against COVID-19 pandemic and will serve as a message that we at the University of Santo Tomas are behind them in solving this problem," said Bautista.