Faculty of Arts and Letters faculty member Asst. Prof. Veronico N. Tarrayo, Ph.D., presented a paper on Filipino flash fiction at the 39th Thailand TESOL International Conference held from January 18 to 19, 2019 at The Ambassador Hotel in Bangkok, Thailand.
With the theme "Changes and Chances in English Language teaching (ELT)," the conference tackled papers from several ELT field including linguistics, literacy, literature, culture and intercultural issues, and other related fields.
As one of the 55 paper presenters from Asia, Europe, and North America, Tarrayo, who is a member of the English Department, presented his paper titled "Exploring the Coalescence of Language and Literature through a Stylistic Analysis of a Filipino-authored Flash Fiction." Flash fiction is a story characterized by being very short, typically consisting of only a few hundred words despite offering plot and character development. In his presentation, Tarrayo explained that language and literature should team up for their mutual benefit in interpreting literary pieces since linguistics is indispensable in understanding the structure and the effects of a given literary piece. Through a stylistic analysis of the flash fiction piece "Earth-bound" written by renowned Filipino author Cyan Abad-Jugo in the anthology "Fast Food Fiction Delivery," edited by Noelle Q. De Jesus and Mookie Katigbak-Lacuesta, Tarrayo was able to delve into the link between linguistics and literature.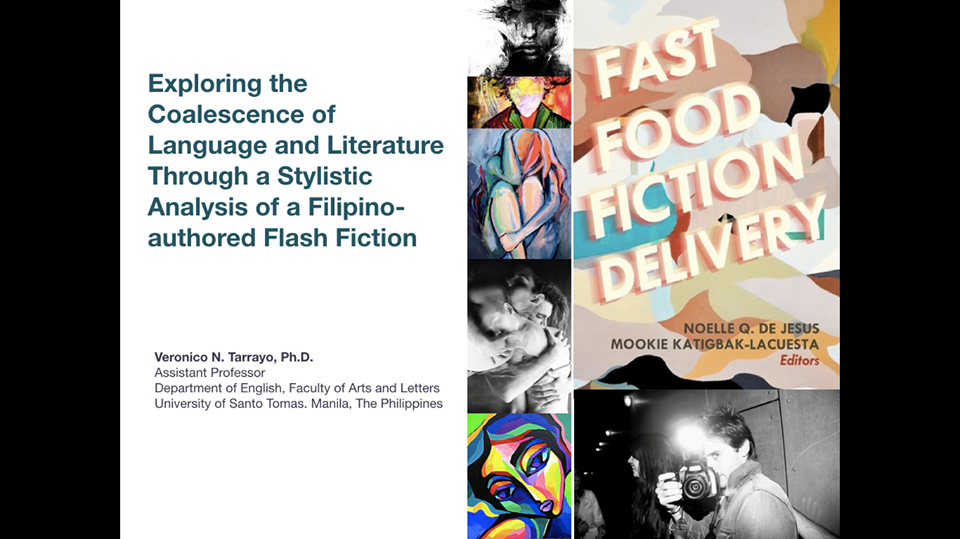 By deciphering the language code of the text in terms of lexical and grammatical categories as textual features, the study concluded that flash fiction's core brevity is not a limitation, but a strength. The short length can, according to Tarrayo, "not only hook the readers but may propel them to concentrate on the power of language, association, and inference. Likewise, the symbolic weight carried by flash fiction drives the narrative forward, and the gaps within and around the story become big ideas in a small space." To examine the textual features and linguistic cues used in the flash fiction piece on different levels, language structure at the semantic, syntactic, phonological, and pragmatic levels had to be taken into account.
This meant scouring the entirety of the text for all possible linguistic features that complement specific literary insights. The analysis included a description of the formal features of the text and its functions in relation to the literary interpretation, Tarrayo discussed through an e-mail interview.
One of the pedagogical implications of the research work is that critical reading and appreciation of flash fiction pieces can be developed in students by literature and language teachers alike through engaging them in activities that utilize stylistics as an approach to literary interpretation. Tarrayo gave some examples, "By using a flash fiction piece, a teacher can assist the students in identifying foregrounded ideas out of words that can grouped under specific semantic fields; in this manner, the students operate on the associative language of flash fiction and develop their ability to surmise what is beyond the power of denotative meanings.
"Introducing students to analyzing varied sentence types and the mixture of long embedded sentences with terse short ones, or statements with incomplete or elliptical statements can challenge the students to make inferences about the character(s) and the mood of a narrative, Tarrayo added. Through the stylistic approach of stimulating their sensitivity to recognizing language features and techniques in writing flash fiction, "the students are placed in the context of 'reading like a writer,' which canperhaps make them realize that although flash fiction is about brevity and quickness, it is so demanding a form, and writing one can only be attained through a long process of elimination, selection, and concentration," Tarrayo reasoned out.
Tarrayo's interest in analyzing such works stemmed from its potential to "contribute to the fields of literary and language studies by offering possible ways on how to examine the "baffling" language code of Filipino flash fiction brought about by its brevity as a unique quality and its unconventional techniques of narration. The required minimalism of the flash fiction genre forces a compression of words and space on a page and demands urgency and profundity among readers. Moreover, flash fiction is about ambiguity; it is a genre that best works via understatement, purposeful ambiguity, implication, and evocative or suggestive language. Unlocking such a baffling language code can be done through looking into stylistic features that lend themselves well in describing flash fiction's linguistic choices and interpretability," he explained.
Tarrayo currently serves as the Editor in Chief of the Asian Journal of English Language Studies, the official peer-reviewed, open-access, annual academic journal of the UST Department of English. He also handles classes in the Faculty of Arts and Letters and the UST Graduate School.