The interdisciplinary research team of the Research Center for Social Sciences and Education (RCSSED) composed by Prof. Arlen Ancheta, Ph.D., and Asst. Prof. Ronald Castillo of the Faculty of Arts and Letters, and Assoc. Prof. Moises Norman Garcia and Assoc. Prof. Maria Virginia Rosario Garcia of the College of Science, presented research findings on December 16, 2020, on the "Assessment of Plastic Pollution along Manila Bay" to stakeholders. This study will be eventually presented to the nation's lawmaking body.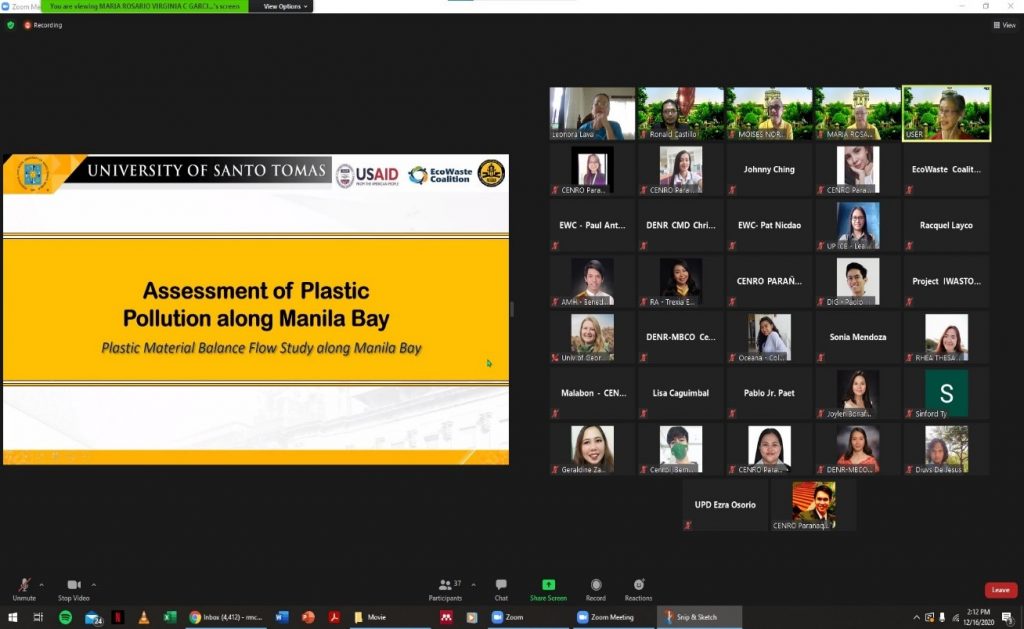 The group received an international grant to document the flow of single waste plastics in five barangay communities that border Manila Bay as 2019 transitioned to 2020. The grant was provided by USAID through its local partner EcoWaste Coalition, and the research was conducted through a knowledge-sharing partnership with University of Georgia researcher Jenna Jambeck, NatGeo awardee for plastic pollution research.
The team's findings were presented and discussed among stakeholders, which were from HEIs that included: De La Salle University Dasmarinas, UP Institute of Civil Engineering, Project IWASTO – UP, and University of Georgia in the U.S. Think Tanks; Project Integrated Waste Analysis, Survey, and Technological Options,
AMH Philippines Inc.
Partner NGOs consisted of Mother Earth Foundation, Oceana Philippines, World Wide Fund, Development Innovations Group.
Representatives from the plastics industry included: Polystyrene Packaging Council of the Philippines. Representatives of Local Government Units; Paranaque CENRO, Malabon CENRO, Pasay CENRO.
The national government was represented by DENR Manila Bay Coordinating Office, DENR BMB, DENR – BMB Coastal and Marine Division, MMDA Solid Waste Management Division. Through stakeholder inputs, the data is now ready for schedule to be presented by EcoWaste and the team to the national legislature for policy recommendations.