Degrees
Doctor of Philosophy in Chemical Engineering, De La Salle University – Manila, Philippines, 2018
Master of Science in Chemical Engineering, De La Salle University – Manila, Philippines, 2011
Bachelor of Science in Chemical Engineering, University of Santo Tomas – Manila, Philippines, 2000
Development of a novel framework for the high-level planning of large-scale biochar-based carbon management networks (BCMNs) using mathematical programming – This work focuses on developing computer models to provide decision support for the use of carbonized biomass as a soil enhancer and as a form of carbon sequestration. This strategy is regarded in the literature as a potentially effective way to reduce greenhouse gas emissions. The framework is comprised of component mathematical models that capture the salient features of biochar research as currently envisioned in the literature. It also consists of novel methodologies that can support decision-making during the implementation of BCMNs.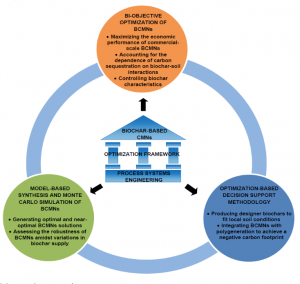 Development of mathematical models for the synthesis of  large-scale BCMNs which account for the following aspects:

Economic performance of the BCMNs
Effect of biochar-soil interactions on carbon sequestration
Control of biochar characteristics

Development of a methodology for assessing the robustness of BCMNs amidst variations in biochar supply due to changes in agricultural productivity 
Optimization of integrated BCMNs for the production of multi-grade biochars (i.e., "designer biochars") with the aid of mathematical programming
Process systems engineering (PSE)
 Process integration (PI)   
 Life cycle assessment (LCA)
 Input-output (I-O) modeling
 Process graphs (P-graph)
Outstanding Scholar-Graduate (PhD) – "In Touch with Excellence" of Department of Science and Technology – Science Education Institute, July 2019
Best Presenter Award – 4th International Conference on Low Carbon Asia, Malaysia, October 2018
 VCRI Student's Research Recognition Award (PhD Level), De La Salle University-Manila, October 2018
Best Poster – 1st Engineering Research and Development for Technology (ERDT) Congress, Philippines, February 2012
Reviewer, Journal of Cleaner Production (Elsevier)
Member, International Biochar Initiative (IBI)
Associate Member, National Research Council of the Philippines (Division VII)
Member, Philippine Institute of Chemical Engineers – Metro Manila Academe Chapter (PIChE – MMAC
Member,  Women Engineers Network (WEN) of the Philippine Technological Council
© Copyright 2020 . UNIVERSITY OF SANTO TOMAS. All Rights reserved.
Powered by: UST COMMUNICATIONS BUREAU