On November 14, 2019, Engr. Beatriz A. Belmonte, PhD delivered an oral presentation at the IBI Biochar World Congress 2019, which was held from 10-14 November in Korea University, Seoul, Korea. This congress with the theme "Towards Biochar Global Market Development" was held with the expectation of a paradigm shift toward the development of the next generation of biochar with more attention toward enhancing the biochar global market.
Belmonte's paper was entitled "Novel framework for large-scale biochar-based carbon management networks (BCMNs)". The BCMNs extend from the production and transportation of biochar from different sources down to its application to agricultural lands. The framework is comprised of component mathematical models that capture the salient features of biochar research as currently envisioned in the literature. This work thus addresses the research gap on decision-making, planning and implementation of BCMNs. The optimization framework provides a sustainable strategy to guide policymaking to aid the proper deployment of commercial-scale BCMNs to contribute to climate mitigation. Biochar, a product obtained from thermochemical conversion of residual biomass, can be deliberately applied to soil to significantly sequester carbon from the atmosphere and simultaneously improve soil fertility.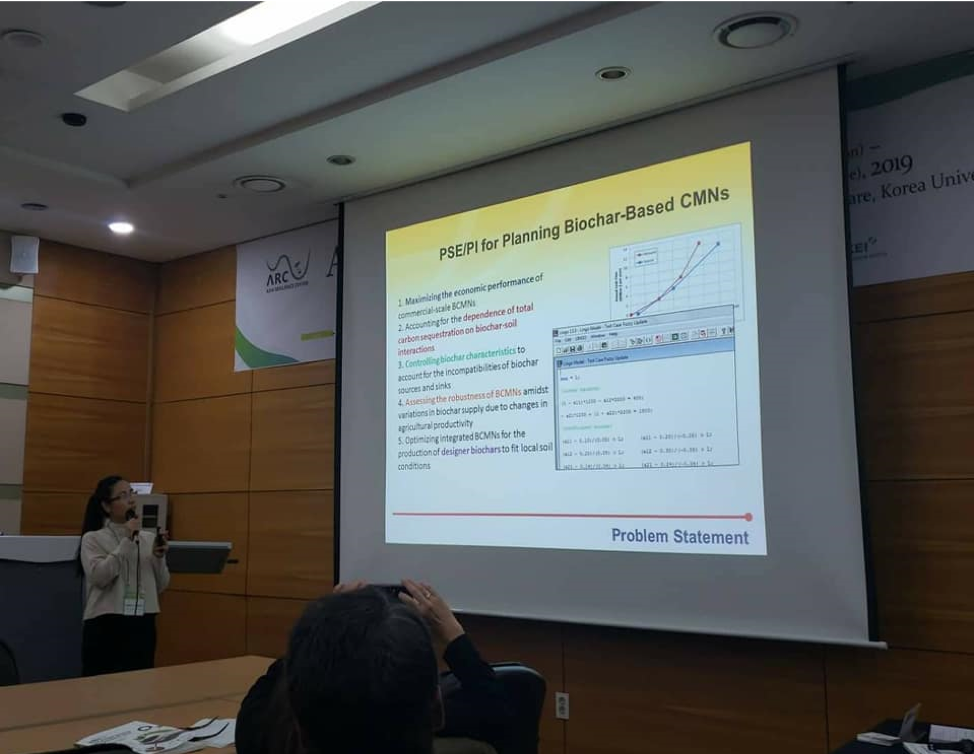 IBI Biochar World Congress has provided a unique platform for sharing knowledge on all aspects of biochar among a broad international scientific community, policy makers and industrial personnel.
Among the plenary speakers was Prof. Johannes Lehmann, a distinguished biochar scientist and a professor at the College of Agriculture and Life Sciences at Cornell University, USA. Prof. Lehmann is the co-founder of the International Biochar Initiatives (IBI) and member of the board of directors of the IBI.
The congress was organized by The Korea Biochar Research Center and Korea University together with the International Biochar Initiative, Foshan University in China, The Hong Kong Polytechnic University in Hong Kong, UK Biochar Research Center in United Kingdom, Cornell University in USA, Henan Agricultural University in China, Shenyang Agricultural University in China and The Korean Society of Environmental Biology.