Center for Creative Writing and Literary Studies (CCWLS) Director Professor Emeritus Cristina Pantoja-Hidalgo, PhD and Assoc. Prof. Chuckberry J. Pascual, PhD of the Research Center for Culture, Arts, and Humanities (RCCAH) and  Department of Literature talked about the recently translated books of Hidalgo entitled "The Ballad of a Lost Season" (Kundiman ng Panahong Naiwan) and "Where the Moon Only Rages" (Sa Bayan ng Nagngangalit na Buwan: 9 na Kuwentong Bayan).
This virtual tête-à-tête entitled "The Other World: The Challenges and Anxieties of Translation", held on November 17, 2021 via livestream, was a part of UST Publishing House's "UST Author Lecture Series" in the Manila International Book Fair 2021 (MIBF 2021), where Thomasian authors shared their knowledge on literature and on developing one's craft.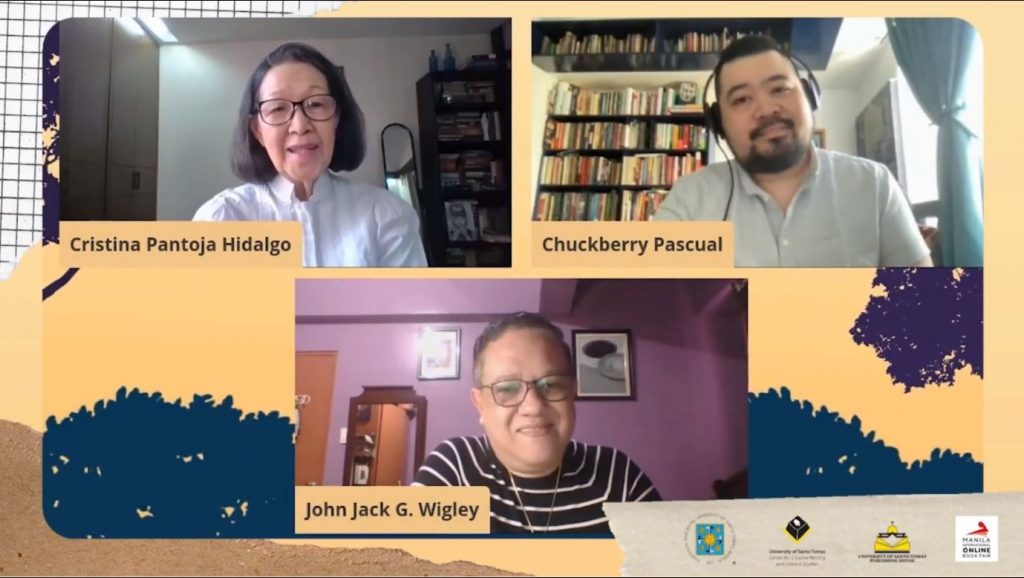 Challenges of translation
While translating Hidalgo's two critically acclaimed books, Pascual shared the challenges he faced in the process, citing the translation of the female voice in the books from English to Filipino. "Iniisip ko baka mamaya ideal translator ni Ma'am [Hidalgo] ay babae rin, so isa iyon sa mga bagay na dapat kong i-overcome habang sinasalin ko ang mga libro," he said.
Likewise, Hidalgo noted that her two books embodied different voices. Nonetheless, she lauded Pascual for giving justice to its Filipino translation. "Generally, my narrator is a woman and often a woman like myself, iba ang boses ng 'The Ballad of a Lost Season' sa 'Where the 'Moon Only Rages', which are fairy tales," she said. "[Pascual] was able to get that voice and translate it, which is to me a marvel," she added.
Moreover, Pascual underscored that Filipino poet Gemino Abad's theory, which is writing "from" English, guided him in translating English works. "Isinasalin ko lang [ang mga akda] pabalik, so may pagsundo. At isang paraan din sa pagsundo ng mga akda ni Ma'am Jing [Hidalgo] ay ang pagpapalitaw ng pagkakautang niya roon sa oral tradition," he said, noting that Hidalgo's works harked at the stories from her generation's grandparents.
Both the translated works, Kundiman ng Panahong Naiwan and Sa Bayan ng Nagngangalit na Buwan: 9 na Kuwentong Bayan, were published by the UST Publishing House.
Looking back at old works
For Hidalgo, revisiting her old works published more than a decade ago, felt like it was written by a "very young woman" or another person. "When I read the book in translation, it was the strangest feeling: it was like revisiting an old place and then you see your former neighbors, or people you used to know, and they are speaking in another language, so that it seems to me that they are different people, including the character who was based on me," Hidalgo said.
"It's like meeting strangers, but the strangers that you used to know, so they are partly familiar and partly unfamiliar." she added.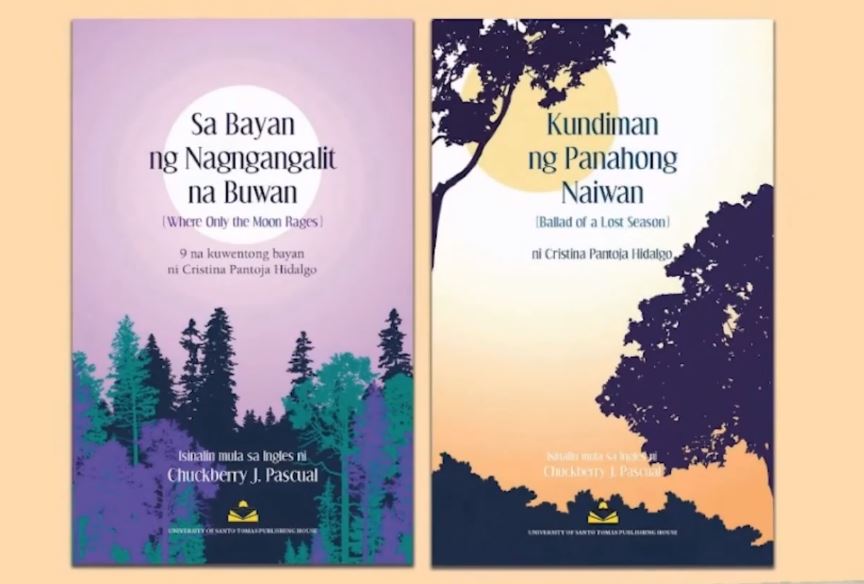 An award-winning fictionist and a renowned travel writer, Hidalgo has authored more than 30 books of fiction, travel, essays, and reference materials. Some of her notable works are Catch a Falling Star, Stella and other Friendly Ghosts, Creative Nonfiction (a manual and a textbook), and Collected Stories and Tales, to name some.
The moderator of this event was Prof. John Jack G. Wigley, PhD of RCCAH and Department of Literature.
Revisit the literary conversation between Thomasian authors here.