The College of Tourism and Hospitality Management, through its students from the Department of Tourism Management, will hold webinars that aim to revive the tourism sector, which was affected by the Covid-19 pandemic, with resource speakers coming from the government and private institutions.
Papillon Events and Productions class of 3TOM7 will present Metamorphosis: Embracing a Transformation Cycle in the Tourism Industry on November 10, 2020 via Zoom Meeting.
Ms. Gibeth Gloria, Executive Assistant Manager of Crowne Plaza Manila Galleria and Holiday Inn Manila Galleria will lecture on Strategies of the Institution on How They Wil be Able to Cope Up with the Trends in Customer Service.
Ms. Cassandra Faye Hernandez, Lead Cabin Crew of CebGo – Cebu Pacific will lecture on How They Reshape their Operations to Keep up with the Trends of Customer Service for the Future of the Tourism and Hospitality Industry.
Ms. Rowena Lu Y. Montecillo, Director of Office of Industry Manpower Development. will lecture on the Filipino Brand of Service During the Covid-19 Pandemic.
Mr. Lawrence Kyle Santiago, Assistant Restaurant Manager of Jollibee Jeepney Market Karuhatan will lecture on Seven Steps of Customer Recovery the "Alagang Jollibee" way.
Mr. Joey Reyes, Professional Speaker and Trainer and Life Coach will lecture on Four Levels of Customer Service.
This webinar aims to give knowledge on Customer Support while living the new normal.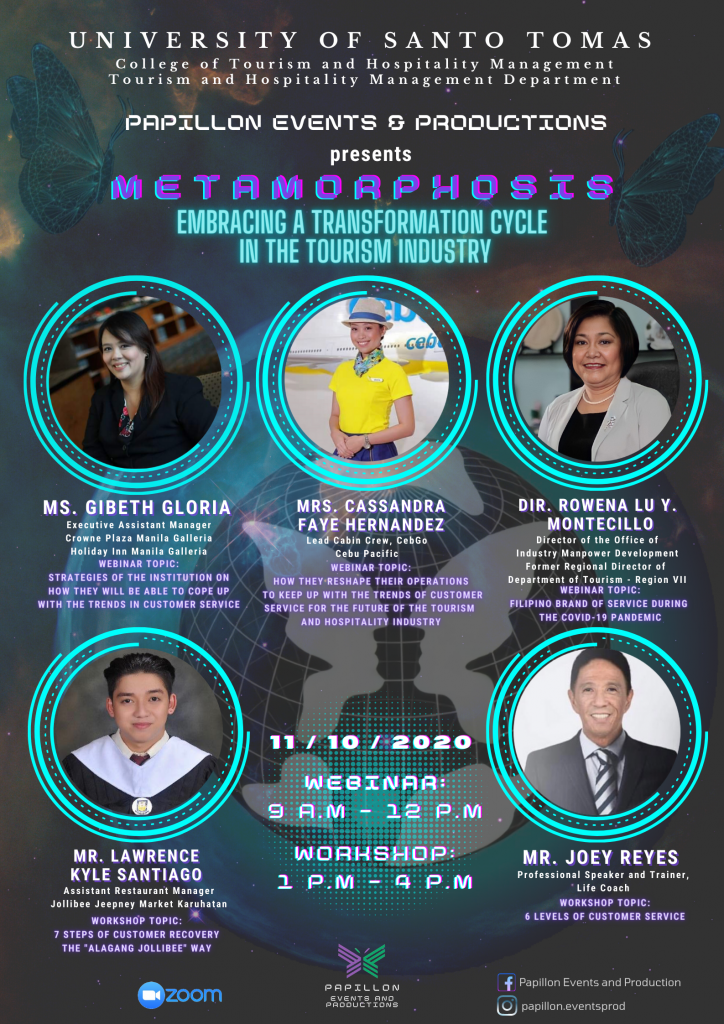 Travelokal: Sustainability in Exploring the Hidden Gems of the Philippines will be held on November 11, 2020, from 1 p.m. to 4 p.m., via Zoom Meeting.
The speakers for this webinar and virtual tour will be Mr. Boboi Costas, Founder of Grassroots Travel; Ms. Chen Reyes – Mencias, Tourism Planning Consultant of Bluewater Consultancy; CTHM Faculty member Mr. Avi Ben Andalecio, MA; Mr. Kim Anthony Faderon, Provincial Tourism Officer of Provincial Government of Romblon; Mr. John Aris Bejer, Content Creator of Aries Diaries; and Ms. Anne Lorraine Apuada – Chavez, Tourism Operations Officer of Sampaloc, Quezon.
This webinar aims to promote local tourism in the midst of Covid-19 pandemic.
Ang Turismo Ngayong Pasko: Makabagong Panahon, Turismong Umaayon will be held on November 12, 2020 at 1 p.m. via Facebook live on CTHM Official Facebook page.
Atty. Maria Anthonette C. Allones – Velasco, CEO of Tourism Promotions Board will lecture on the Understanding Smart Toirism and its Impact in Philippine Tourism. Mr. Jason Cruz , Business Development Director of ADA Philippines will lecture on Overcoming the Challenges of Tourism Market with the Use of New and Innovative Technologies.
Ms. Jomelyn Melmida – Abuan, Secretary-General of the Association of Tourism Officers of the Philippines will lecture on Filipino's Christmas Culture Through Smart Tourism: Celebrating Christmas in the New Normal.