The bone relics of St. Thérèse of Lisieux, also known as St. Thérèse of the Child Jesus, had an overnight visit at the Santísimo Rosario Parish Church (UST Chapel) from April 13 to 14, 2023.
The votive mass was presided by UST Museum Director Rev. Fr. Isidro Abaño, O.P., while , Santísimo Rosario Parish Priest Rev. Fr. Paul Reagan O. Talavera, O.P., served as the homilist.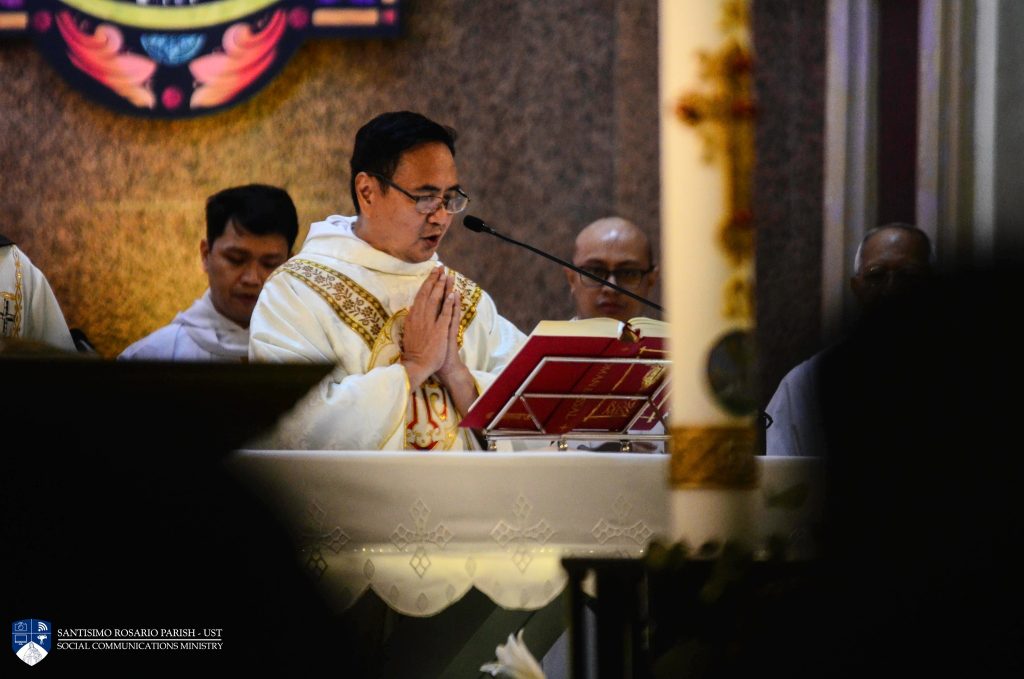 In his homily, Fr. Talavera, who himself is a devotee of St. Thérèse, said "It is with great joy that we welcome tonight the pilgrim relics of St. Thérèse of the Child Jesus, especially as we are still in the Octave of Easter, a moment and season in which we remember and rejoice at the resurrected Lord."
St. Thérèse is among the famous saints who lived in the 19th century. Being the youngest among nine children (five of whom survived childhood) of the Martin couple (Louis and Marie Azélie), St. Thérèse grew up in a pious family where she developed an intense desire to enter religious life. With several failed attempts, St. Thérèse was granted permission to enter Carmel at the tender age of 16 joining her older siblings in the community of Lisieux. In 1890, she made her full profession on the birth date of the Blessed Virgin Mary.

In April 1896, St. Thérèse fell gravely ill and was confined to the infirmary where she spent her time writing her story by the request of her Mother Prioress. The following year, she died at the age of 24. Her final words are, "Oh, my God, I love you!"

She was canonized on May 17, 1925, and was declared Doctor of the Church by St. John Paul II on October 17, 1997.

The visit's theme, "Lakbay Tayo, St. Thérèse! Ka-alagad, Kaibigan, Ka-misyon," centered on seeking the intercession of St. Thérèse as the Church celebrates the Synod on Synodality.

The intricate reliquary of St. Thérèse is called the Centennial Reliquary made during the centenary of the Saint's death in 1997.

The relics have been on tour to different archdioceses and dioceses in the Philippines since its arrival on January 2, 2023–the 150th birth anniversary of the Saint. While this was the 5th visit of the bone relics to the country, this was the first time it was housed at the UST Chapel. The pilgrimage of the relics of St. Thérèse in the Philippines ended on April 30, 2023, which happens to be the centennial anniversary of her beatification.