The United Architects of the Philippines (UAP) organized the first virtual oath taking and induction ceremony for the new architects held on September 26, 2020 for those who took the January 2020 Architect Licensure Examination.
The University of Santo Tomas, which had a passing rate of 85.29%, had two graduates in the top ten: Ar. Austin Carl S. Equipaje (Top 4) and Ar. Maria Regina Victoria M. Polotan (Top 9). UST was also named as the top performing school in the January 2020 Architect Licensure Examination.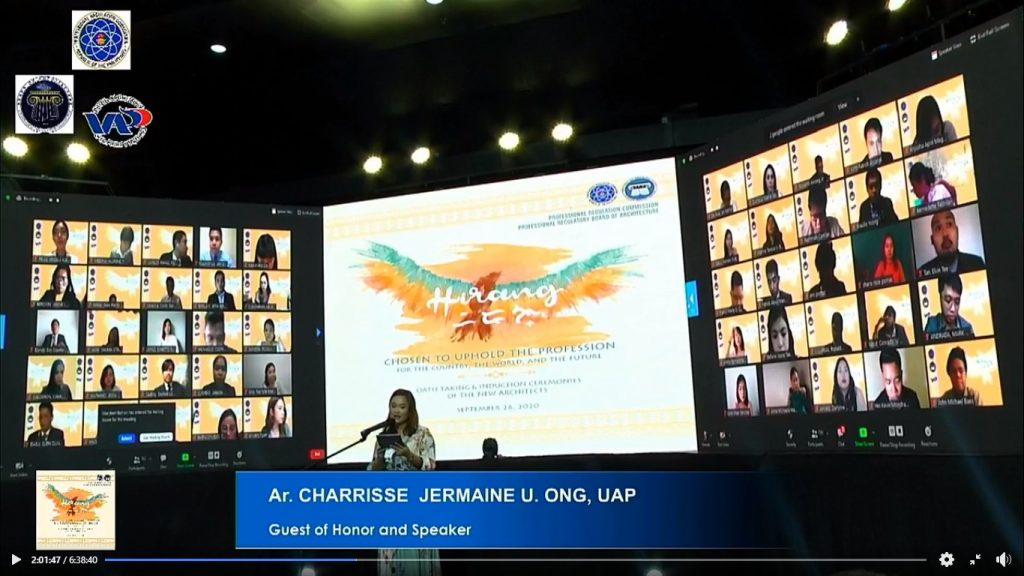 Ar. Charisse Jermaine Ong, faculty member and former College Secretary of the UST College of Architecture, delivered the inspirational speech as a Guest of Honor and Speaker.
Ar. Ong shared how a proper mindset is important to achieve one's goals. This is could be achieved with a clear vision and a positive attitude to keep moving forward, even amidst adversities like the present pandemic. She encouraged the new batch of architects to continue learning, constantly collaborate, and design for people—not for the ego nor for the social media feed. Lastly, she urged the young architects to love the profession, uphold its value, and work for its improvement.
The ceremony was co-organized with the Professional Regulation Commission (PRC) and the Professional Regulatory Board of Architecture (PRBOA) and was held at the UAP Head Quarters at Quezon City. It was graced by the presence of PRBOA Chairperson Hon. Robert S. Sac and PRC Commissioners Hon. Jose Y. Cueto, Jr and Hon. Yolanda D. Reyes.