Electrical Engineering student leader learns more of climate change impact Diane Mariella Maqui, a fourth year Electrical Engineering student of the Faculty of Engineering was chosen to
be one of the delegates to the Asia World Model United Nation II (AWMUN) held from January 30, 2019 to February 2, 2019, at the Prince Palace Hotel and Windsor Suites Hotel, Bangkok, Thailand.
Maqui, a student leader who serves as Tiger Radio Booth Head for UST Tiger TV, was selected along with 25,466 other applicants around the world to be an "Agent of Change" and was a part of the International
Monetary Fund roster, assigned to Cuba. She applied online to be part of the conference and was asked as part of her application regarding her position on the topic: "The World's Dilemma: Enhancing World Action on
climate change".
The conference served as a niche of ideas and cultural exchanges that aimed to forge better diplomatic ties with other countries, as well as hone the youth leaders' skills in grasping their advocacy on various topics
such as climate change, talks on saving the environment, and many more.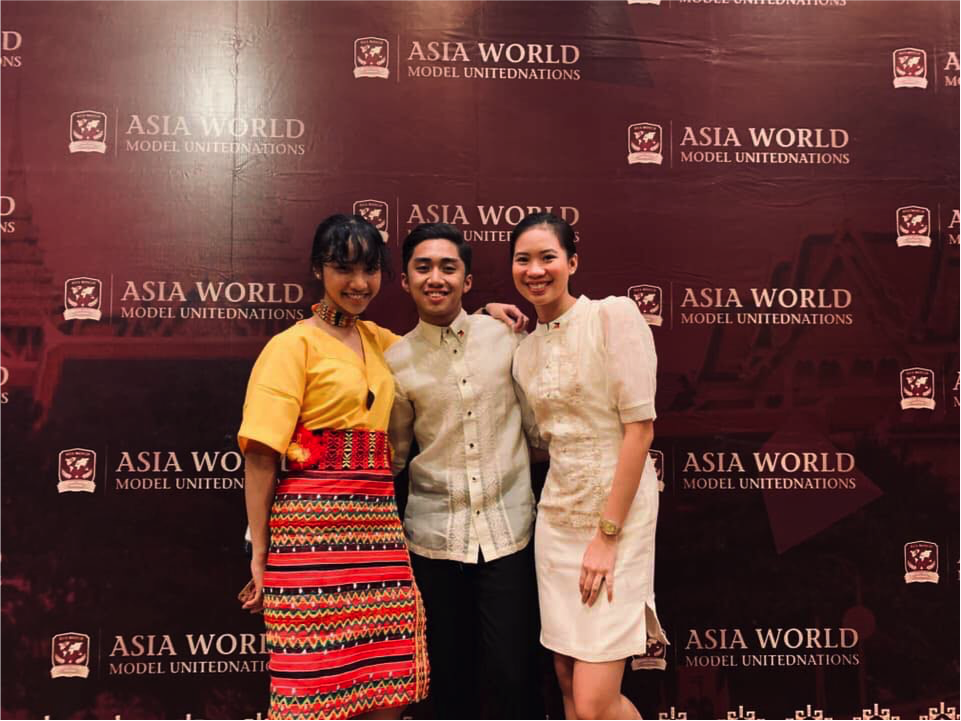 Maqui said that she learned from the conference valuable lessons such as: Climate Change being a global phenomenon and each and every country has a different approach and ways to confront it.
Having been assigned to a council where she was assigned as the delegate of Cuba, Maqui explained that, "I was able to study the problems they (Cubans) are facing and the solutions they proposed. I was able to compare it to the
problems we have here in the Philippines. A speaker from the United Nation Environment Programme said that there are various ways to reduce GHG or Greenhouse gas: One is through Efficiency, second is through the
Reduction of the consumption of fossil fuel on transportation and third is to increase ambition to reduce gas (consumption). There was no immediate resolution for this, it is a slow process that needs every human
coordination."
"I was also able to bring the three 3Cs of UST to Bangkok. The practice of being committed in the task we were given during the meeting sessions, compassion for my fellow delegates, and then competence in
what we did followed. It was also very timely since I am taking Environmental Engineering course this semester and the topics were mostly the systems that need to change in order to prevent pollution," she
added.
Maqui ended by saying that "Change should start within ourselves. If we want to help mother earth then we should start evaluating first ourselves before others. A little deed can make a great impact."
The participants learned hard skills like debating, speech making, and writing, and also how to persuade others. Every student should have the chance to push their own boundaries in order to progress.
According to the AWMUM website, the participants learned the following: to enhance diplomacy skills, to enhance leadership, to improve communication skills, to increase analytical and critical thinking skills, and to
expand networking with other delegates.
Travel Management students create resolutions
In a related development, three students in their fourth-year under the Bachelor of Science in Travel Management program of the College of Tourism and Hospitality Management were chosen as delegates in the
same conference, which was organized by International Global Network (IGN). The conference, with 1,326 delegates from around the world, assembled at the Prince Palace Hotel and Windsor Suites Hotel in Bangkok,
Thailand.
This year's theme was: "The World's Dilemma: Enhancing World Action on Climate Change." The delegates were assigned to different councils, where they created resolutions for climate change.
Ms. Josephine Beatrice Domingo was part of the United Nations Educational, Scientific and Cultural Organization (UNESCO) representing Finland, while Ms. Eunice Marie Monton was designated to the
International Labour Organization representing Norway. Finally, Mr. Matthew Eli Rogan was assigned to the World Health Organization roster representing Armenia.
The activities of the three-day event included the opening ceremony, grand symposium, diplomatic dinner, meeting session, cultural performance night, awarding session and a city tour of Bangkok.
The aim of the AWMUN II is to engage youth leaders from around the world and provide a platform to share perspectives and opinions on the given theme.