The University of Santo Tomas ranked fourth in ASEAN and first in the Philippines in the new ASEAN Private University rankings released by AppliedHE.
In a press release signed by AppliedHE, the regional ranking agency noted the eight Philippine universities that participated, with UST emerging as the top university in the country. The rankings involve ASEAN countries with local accreditation agencies, such as the government-accredited Philippine Association of Colleges and Universities Commission on Accreditation.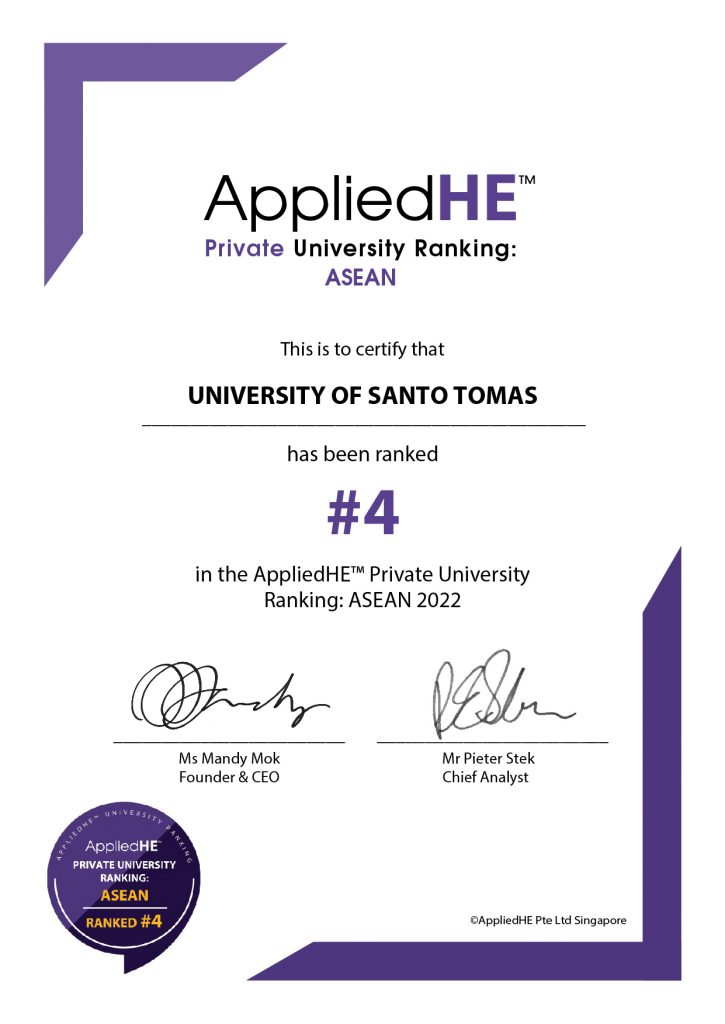 Teaching and learning, employability, research, internationalization, community engagement, and institutional reputation or brand value are among the criteria being rated in the new rankings system. UST scored highly in institutional reputation in ASEAN, and performed well in employability and community outreach.
Among the ASEAN universities rated are Bina Nusantara University (BINUS) in Indonesia and Universiti Tenaga Nasional in Malaysia.
Apart from data submitted by the participating universities, data found on Google Scholar and Google News are used. Furthermore, peer nominations by universities also add data to that are being assessed by AppliedHE. The certificate was signed by Founder and CEO Mandy Mok and Chief Analyst Pieter Stek.