The University of Santo Tomas College of Commerce and Business Administration was named the 2022 Marketing School of the Year by Junior Achievement (JA) Philippines, by virtue of producing the most number of students who made it into the top 10 of the recently concluded Registered Marketing Professional (RMP) examinations administered by JA. The results were announced on February 14, 2022.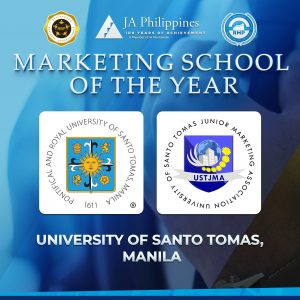 Ms. Aaliyah Isis Jimenez who topped the exams, is also joined by Mr. Andre John A. Manglicmot (2nd place), Ms. Leanne Christine Gono (3rd place), and Ms. Anne Valerie Casimiro (6th place) from the graduating class of 2022 in the top 10.

One hundred and seventeen Thomasians took the RMP exam for this year, according to College Secretary Mr. Francis Lawrence B. De Jesus, Ph.D., who is part of the RMP reviewers' team. Other academic staff part of the reviewers' team are Mr. Antonio Etrata, Jr., Asst. Prof. (Ret.) Robert Lao, and Asst. Prof. Real So.
JA Philippines is the Philippine affiliate of JA Worldwide, a youth-serving non-government organization that was nominated for the 2022 Nobel Peace Prize. According to its website, JA organizations deliver experiential learning in financial literacy, work readiness, and entrepreneurship.