A team composed of seven students under the Bachelor of Science in Business Administration, major in Marketing Management program earned first place for their proposed marketing campaign at the 29th Agora Youth Awards. By winning the top prize, they secured for the University of Santo Tomas the title of Marketing School of the Year. The award was given by the Philippine Marketing Association (PMA) during the online awarding ceremonies held on October 27, 2021.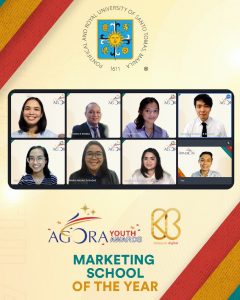 The members, Jerome Seth O. Espinas, Margaux Isabella B. Pagkalinawan, Elaine G. Tuazon, Dior P. Ventura, Anica Monic M. Andulan, Angelo Clark V. Castillo, and Julius Paolo M. Atienza, competed in the finals of the main competition held on July 16, 2021.

Their months-long preparation, which began with the team's reassembly in January 2021, was supported by Marketing Management Department Chair Mr. Francis Lawrence De Jesus, Ph.D., UST Junior Marketing Association Advisers Mr. Antonio Etrata, Jr., Ph.D., and Ms. Abigail Posadas.

According to De Jesus, alumni coaches Mr. Peter Rico Wong, Mr. Jim Kenneth Lazam, and Mr. Christian Dave Marcaida, along with the mentors, conducted preparatory sessions each Saturday leading up to the competition to solicit real world insights on the dynamics of the advertising industry. Student Resource Aides from the CCBA, Mr. Melvin Dave Jordan, Mr. Marco Babiera, and Mr. Mar Zhayvier Rosales, also assisted through digital content creation.

The team's winning entry, called an "Authentic Ambassadors Initiative," is a differentiated market penetration campaign for the case sponsor, Katapult Digital, one of the country's leading full-service advertising agencies, shared the Marketing Management Department Chair.

Philippine Marketing Association President Lucien Dy Tioco, an alumnus of the UST Journalism program, delivered a congratulatory message.

The AGORA Youth Awards recognizes the best marketing students for the school year, offering the country's future marketers with the chance to show their ability to apply knowledge and theory to actual business cases. It is a collaboration between the PMA, the academe, and affiliate organizations for marketing students.