The UST Graduate School, through the Psychology and Guidance & Counseling Cluster in partnership with the Catholic Education Association of the Philippines – National Capital Region  (CEAP-NCR) held the International Webinar on Mental Health Advocacy on February 18, 2022.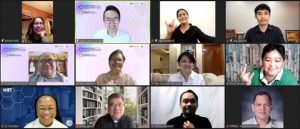 The webinar, titled "Trauma, A Silent Epidemic and the Need to Understand and Heal from It" encouraged Mental Health Awareness and provided information on how to properly handle trauma for the 171 schools participating schools under the Archdiocese of Manila. 
Ms. Doreen Hills, the Founder and Director of the Center for Healing Trauma and Attachment, Inc., located in Colorado, USA, served as the speaker. She clarified profound field terminologies and engaged the participants with scientific-based techniques that could be utilized among clients suffering from trauma. 
CEAP-NCR Guidance and Counseling Committee chair Prof. Lucila O. Bance, Ph.D., and the UST GS Psychology and Guidance & Counseling Cluster Program Lead Prof. Ma. Claudette A. Agnes, Ph.D., spearheaded preparations for the event.
Rev. Fr. Nolan A. Que, Ph.D., Regional Trustee of CEAP-NCR, UST Graduate School Dean Prof. Michael Anthony C. Vasco, Ph.D., and Sr. M. Christine L. Pinto, OSB, the President of St. Scholastica's College and the Vice Regional Trustee of CEAP-NCR were some of the key persons also involved in the event.