The University of Santo Tomas Graduate School (GS) Center for Continuing Professional Education and Development (CCPED) conducted the webinar titled "Cultivating Collaboration, Fostering Interprofessionalism in Healthcare: A Webinar on Interprofessional Education & Collaborative Practice" held recently through the Zoom platform.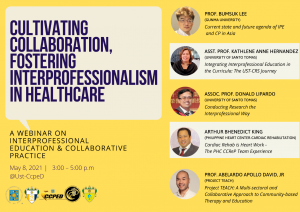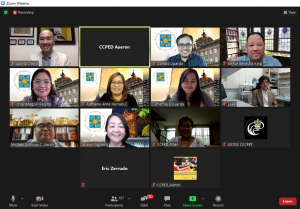 Dr. Bumsuk Lee, Ph.D., of the Gunma University, Japan led the panel of speakers which included UST CRS Occupational Therapy Department Chair Asst. Prof. Kathlene Anne V. Hernandez; Graduate School Master of Science in PT/OT Cluster Program Lead Assoc. Prof. Donald Lipardo, Ph.D.; Philippine Heart Center Cardiac Rehabilitation Section Chief PT Arthur Bhenedict King; and REACH Foundation Inc. Founder Prof. Abelardo Apollo I. David.
The webinar was organized to propagate the concept of interprofessional education and collaborative practice in the Philippines as a response to the call to action towards interprofessional education and collaborative practice (IPECP) in healthcare professions as mandated by the World Health Organization (WHO).
In 2010 the WHO published the Framework for Action on Interprofessional Education & Collaborative Practice with the goal of providing strategies and ideas to policymakers that will help them implement the elements of interprofessional education and collaborative practice that will be most beneficial in their unique contexts. This is to be able to mitigate the escalating global health workforce crisis.
Through collaborative practice, multiple health care practitioners from various professional backgrounds work together with patients, families, careers and communities to deliver the highest quality of care. It allows health care practitioners to engage any individual whose skills can help achieve local health goals. To realize this, Interprofessional education must be implemented as an essential step in preparing a "collaborative practice-ready" health workforce that is better equipped to respond to increasingly complex health issues and health care needs of the population.
The webinar realized its overarching goal to highlight the current applications of IPE/C concepts and principles in different practice settings for health which include education, research, community and clinical practice. The resource speakers shared their success stories with hope that it may be replicated in the educational and practice settings in our country.
The webinar was a collaboration between CCCPED with the College of Rehabilitation Sciences (CRS) and the GS MSPT/MSOT cluster. It was also available through Facebook Live in the Fb page of the UST GS CCPED.