On October 17, 2023 (Tuesday), the University of Santo Tomas inked a Cooperation Agreement with the country's Climate Change Commission, in a signing ceremony attended by the Rector, the Very Rev. fr. Richard G. Ang, O.P., and Sec. Robert E.A. Borje, Vice-Chairperson of the Climate Change Commission.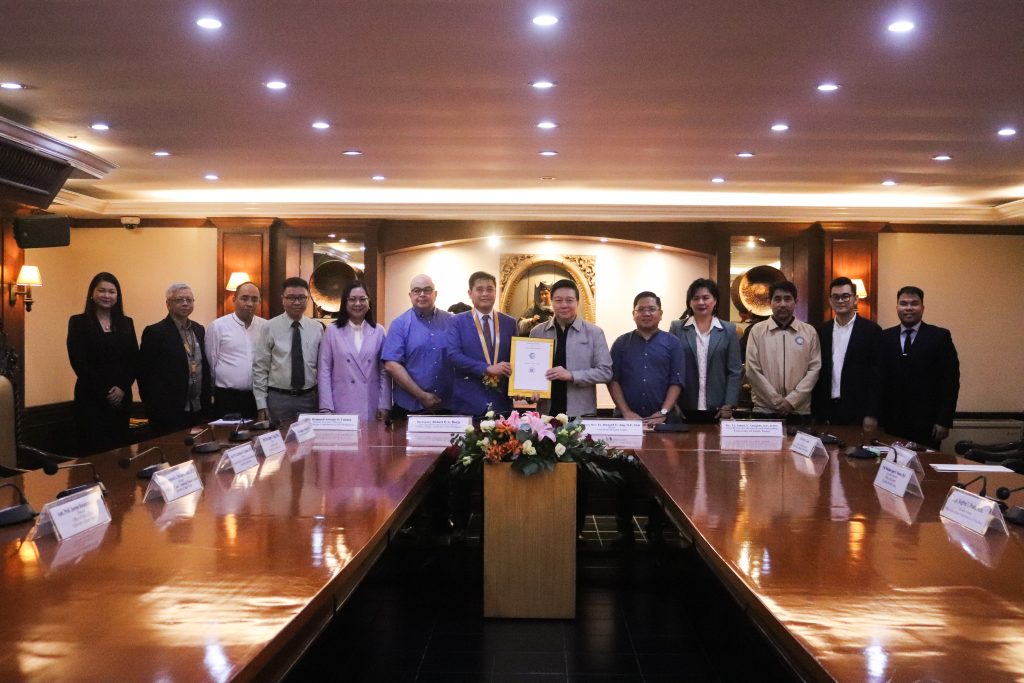 In his remarks, Vice-Rector for Research and Innovation fr. Jannel N. Abogado, O.P. expressed delight at the formalization of the agreement at a time when UST's research and instruction initiatives complement the efforts for climate change mitigation. Fr. Abogado cited, too, the famous encyclical Laudato Sí of Pope Francis and shared how in UST, spirituality and stewardship guide efforts to ensure that future generations can enjoy a "blissful life" on our planet.
The Rector also stated that as inhabitants, not owners, of the Earth, we are bound by an urgent need to care for the environment. He reaffirmed the University's commitment to fighting climate change and helping the government by lending the University's academic and research expertise.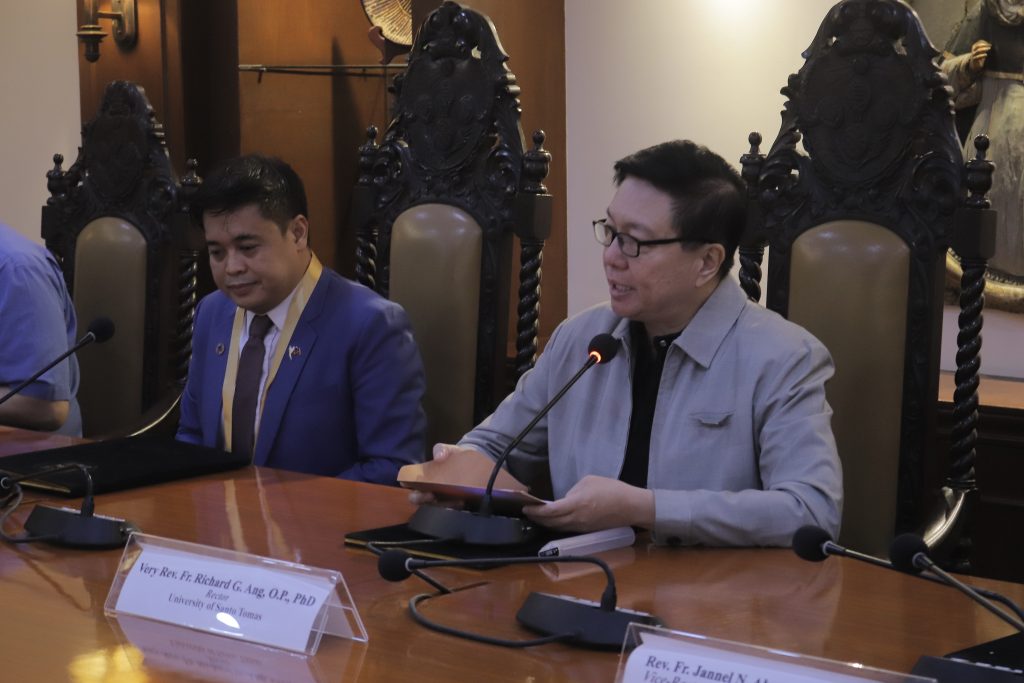 Meanwhile, Sec. Borje underscored the importance of both sustainability and climate justice and equity, which the Climate Change Commission is promoting. He expressed enthusiasm at partnering with UST for its "vibrant research activities" that can open a lot of avenues for further collaboration. Though informally, Thomasians have been engaging with the Climate Change Commission and supporting its activities in the past, and the six-year agreement puts a framework to further collaboration.
The agreement, which aims to leverage UST's research initiatives at the Research Center for the Natural and Applied Sciences and the DOST-TOMASInno Innovation Center Technology Business Incubator, paves the way for closer collaboration between UST, one of Asia's top universities, at the national government. The agreement aims to "align efforts for building resiliency at the local level," opening avenues for the UST Simbahayan Community Development Office and the Research Center for Social Sciences and Education to also join. The projects will find locus not just in the Manila campus's Thomas Aquinas Research Complex, but also in the UST Dr. Tony Tan Caktiong Innovation Center of the UST Santa Rosa Extension Campus.
The expected outputs of the cooperation are joint research and policy development initiatives that will help advance environmental preservation. Joint academic and research activities aimed at capacity-building will also be undertaken, beginning with the November 2023 Climate Change Week celebration.
Among UST's initiatives toward environmental preservation are the conduct of basic and applied science studies on biodiversity and aquaculture, as well as advocacy campaigns against environmental degradation in areas like the Sierra Madre Mountain Range and Dumaguete, where reclamation has been threatening coastal life.
Joining Sec. Borje were CCC Deputy Executive Director Atty. Rommel Antonio O. Cuenca, Strategic Partnership Division Chief Alexis D. Lapiz, Legal Services Division Atty. Carlos M. Borja, Jr., and Chief of Staff Rhea Ckristine Sy. Meanwhile, UST officials included the Vice-Rector for Research and Innovation, fr. Jannel N. Abogado, O.P., DTPS, Asst. to the Rector for UST Sta. Rosa Philipina A. Marcelo, PhD, UST Sta. Rosa Executive Assistant Siegfred V. Prado, College of Science Dean Rey Donne S. Papa, PhD, Research Center for Social Sciences and Education Director Jeremaiah M. Opiniano, PhD, TOMASINNO Center Manager Raymond Marquez and Assistant Manager Celso Noel Aban, and Simbahayan Community Development Office Director Froilan A. Alipao.