In the wake of Metro Manila's systemic transport and city planning concerns, internationally renowned Danish urban design expert and architect Jan Gehl discussed planning livable cities with UST Architecture students. The Zoom webinar, held on February 24, 2021, was made possible through the collaboration of the Royal Danish Embassy in Manila, the University of Santo Tomas Office of Public Affairs, and the UST College of Architecture as part of a series of programs celebrating 75 years of diplomatic relations between Denmark and the Philippines.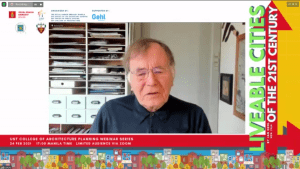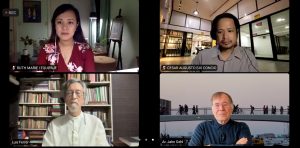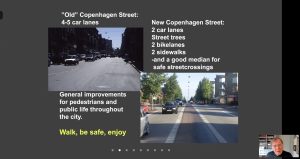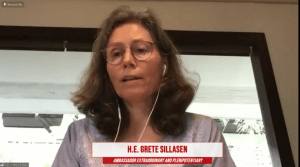 Ambassador of Denmark to the Philippines Her Excellency Grete Sillasen, in her message, mentioned that she grew up in Copenhagen, a city that was designed through Gehl's methodology of 'Cities for People.' 
"[Copenhagen] got better year by year, and we are all very proud that it is considered one of the most livable cities in the world. For that, we can thank Jan Gehl," said Ambassador Sillasen, adding that "'Cities for People' is not only about traffic, but I noticed that when we talk about livability, traffic is often an issue because it affects us as much as it does. Part of the livability of Copenhagen is that it's a city for bikers and pedestrians."
"I hope that you will walk in the footsteps of Jan Gehl. I dare you to be the ones to make Manila a city for the people," the Danish Ambassador challenged her online audience.  This webinar with Gehl is part of a series of programs under the celebration of the 75 years of Diplomatic Relations between Denmark and the Philippines.
            Jan Gehl, whom the Ambassador called the 'Grand Old Man of Urban Planning for People,' is an award-winning architect and expert on urban planning with over 50 years of experience. He is a recipient of the Global Award for Sustainable Architecture in 2015, and the Sir Patrick Abercrombie Prize for exemplary contributions to Town Planning in 1993, among others.  
Gehl centered his lecture, "Livable Cities of the 21st Century," on the people-oriented approach to city planning. By keeping the people's experience or 'the patterns of public life' in urban environments at the heart of urban design, Gehl envisions lively, safe, sustainable, and healthy cityscapes that are not so dependent on motor vehicles. In the course of his decades-long career, he has created such spaces in Copenhagen, Melbourne, New York, and other urban centers around the globe.
This idea was echoed by the UST College of Architecture Dean Ar. Rodolfo S. Ventura in his remarks. He reminded the 442 Architecture students and faculty members attending the webinar that "We are always challenged not just to create inspiring and functional works of art, but also to be mindful of the spaces we use and create."
In particular, Gehl emphasized that planning and building for urban centers needed three main points of consideration: the protection, comfort, and enjoyment of the people who will inhabit or pass through the space.
"First, we shape the cities, then they shape us," said Gehl, adding that "Architecture is the interplay between form and life. If life and form interact in a successful way, then that is good architecture."
The urban design expert recommended that they (architects) should study public life or inhabitants' behavior within and around the planned space to see their habits and needs instead of building a city space that merely looks good from above or as a 3D model.
Gehl further explained that architects should design for protection against traffic accidents, crime, and inconvenient sense experiences involving weather and pollution. One should also add a clean and unobstructed street layout, defined spots for staying, sufficient lighting and unhindered views, and open spaces for talkscapes and group physical activities. The scale, ventilation and insulation as necessary, and positive sense-experiences and aesthetic qualities are also key points.
When these key factors successfully come together, the result is a livable, lively, healthy, and sustainable city that would also be "good to be old in", he said.
UST College of Architecture faculty members Ar. Ruth Marie I. Equipaje, Ar. Cesar Concio III, and former Dean Ar. Luis Ferrer served as the panel discussants.
The University of Santo Tomas, aside from being known for producing topnotchers in the national licensure examinations in Architecture, also has National Artists and renowned architects within its ranks of alumni, namely Leandro Locsin, Ildefonso Santos, Jr., and Francisco Mañosa.
Aside from being the Founding Partner of Gehl Architects, Jan Gehl is Professor Emeritus of Urban Design at The Royal Danish Academy of Fine Arts — School of Architecture. In the last 50 years, he has published several books, including, "Life Between Buildings", "Cities for People", "New City Spaces", "Public Spaces – Public Life", "New City Life" and most recently, "How to Study Public Life."