Atty. Kenneth Glenn L. Manuel, J.D., a graduate of the University of Santo Tomas (UST) Faculty of Civil Law, placed sixth in the 2019 Bar Examinations with a passing rate of 88.1730 percent. He was one of the 2,103 successful Bar examinees who have made it from among the 7,685 aspiring lawyers who took the tests in November. He leads the batch of new 88 Thomasian lawyers.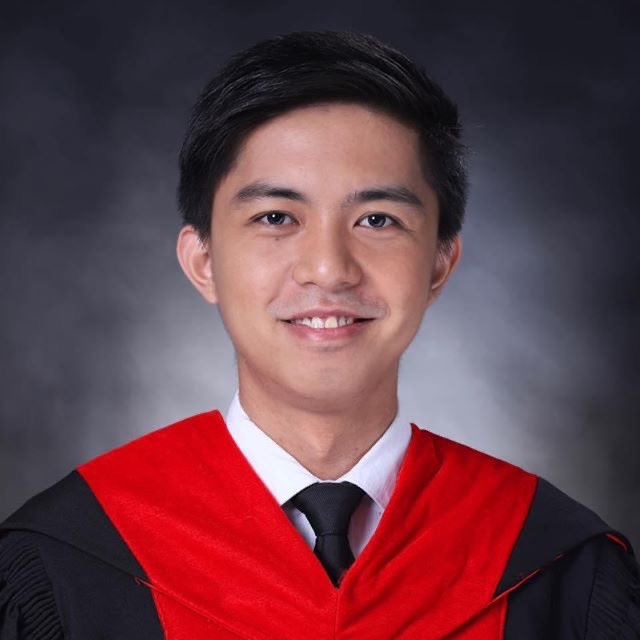 Already a Certified Public Accountant, Manuel went on to fulfill another dream: to become a lawyer. However, this did not come easy for him; he had to struggle between the demands of Law school and a full-time teaching job and reviewer in a review center for aspiring Accountants.
Manuel described the four years that he spent at the University of Santo Tomas Faculty of Civil Law as tough and a steep uphill climb, but one that he chose to hurdle. As he described his life, it was not a balancing act of teaching and studying, but it was a matter of 'surviving each day that lasted for four years.'
While teaching full-time at the Colegio de San Juan de Letran, a Dominican-run educational institution in Intramuros where he earned his Bachelor's degree in Accountancy, graduating Magna cum Laude in 2014, he took a regular load as a Law student in UST in 2015. His usual schedule included preparing for his classes or checking examination papers, and rushing to get to UST in the midst of a heavy traffic flow from Lawton to España for his classes at the Faculty of Civil Law. He admitted to not always having been able to read enough for his Law classes but he would always make up for them in his examinations. His 'struggles to survive everyday' paid off when he landed in the Dean's List and eventually graduated cum Laude from the Juris Doctor program in 2019.
As if his workload and academic life were not yet enough, Manuel was a member of the UST Civil Law Debate and Moot Society as well as a volunteer for the UST Civil Law Student Council.
Entering into the stressful period of the Bar Examinations in November in 2019, Manuel never gave up his teaching job. He said that resigning from work would give him a lot of time to review, but would leave him "hungry and homeless."
For those who know Manuel, his life as a working student and a regular law student is an inspiration for perseverance. Manuel, who is now a Legal Assistant at DivinaLaw, says that his life was not an easy feat, but he never opted to quit. He looks at his achievements as motivation for other working students who lead lives of double burdens: "We turn our struggles into success; we make our hurdles our opportunities."
In a Facebook post, Manuel emphasized that what motivated him in spite of the difficult road were "the moments of victory."
"I met some of the most wonderful people in law school. I became a student of inspiring professors, some of whom I will admire for the rest of my life."
The night before the results were released, the new lawyer shared in a Twitter post that his faith in God kept him strong: "At midnight today, I held on to the rosaries …I have received, and sang along to my Bar theme song: Today My Life Begins by Bruno Mars. 'A whole new world is waiting / it's mine for the taking / I know I can make it / Today my life begins.'" He added that he slept with his UST Law shirt on and took a brief social media break due to the anxiety of waiting.
Manuel also shared words of inspiration to law students who may be doubting themselves, writing in the aforementioned Facebook post that "The way up may not be the gentle slope that we have imagined it to be; it is a steep uphill climb along rugged terrain. But when we reach the peak, the view is breathtaking."
Atty. Kenneth Glenn L. Manuel now joins the ranks of the notable alumni of the University of Santo Tomas Faculty of Civil Law, that include four Presidents of the Republic of the Philippines and Chief Justices of the Supreme Court, including the current Chief Justice Diosdado Peralta — also a Thomasian.
Prominent Thomasian topnotchers that ranked first place include former Chief Justice of the Supreme Court Roberto Concepcion (1924), former Senator Jose W. Diokno (1944), former Philippine President Diosdado Macapagal (1936) and Arlene Maneja (2002).
Two of the topnotchers in the 2019 Bar Exams were graduates of UST – Legazpi, formerly Aquinas University in Bicol. Ranking first in the Bar Exams was Mae Diane M. Azores who got a 91.0490 percent passing rate. Placing third was Myra M. Baranda who obtained a 88.8250 percent passing rate. Both are Certified Public Accountants.
The former Aquinas University of Legazpi is the Dominican University in Bicol. The move to rename it was based on a resolution from the 2012 Provincial Chapter of the Dominican Province of the Philippines, which mandated that a University of Santo Tomas system be formed.
There has been a close collaboration between these two universities, UST-Manila and UST-Legazpi even before the integration of the former Aquinas University into the UST system. UST-Manila has been supervising some of the former Aquinas University Master's programs, including Pharmacy and Law. This educational endeavor will eventually lead to more programs of the UST-Legazpi being supervised by UST Manila.