The University of Santo Tomas Faculty of Arts and Letters signed an international memorandum of understanding with the University of Buffalo (UB) of the State University of New York (SUNY) for the purpose of "developing academic and educational cooperation on the basis of equality and reciprocity and to promote relations and mutual understanding between both universities".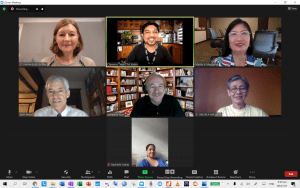 Dr. Sampson Lee Blair of UB-SUNY, a family sociologist who specializes in child and adolescent development, gender, and ethnicity, will teach a professional elective on the Sociology of Family to fourth year BA Sociology students under the Department of Sociology.
The course is intended to examine family research and Sociology of the Filipino family relative to contemporary social issues such as changing age at marriage, poverty and family dynamics, child employment, intergenerational families, and the role of religion within family, among others.
At the Department of English, a collaboration with the UB-SUNY is underway for the graduates of the English Language Studies program to pursue their education-based master's degree in the institution at a discounted rate.
Other opportunities for international projects, research, and teaching assistantship of the students under the BA Sociology program, and in other programs are also being explored in the partnership.