Transformare: A Network of Adult Literacy and Lifelong Learning Advocates is spearheading in the Philippines a scoping research to study the impact of the Covid-19 pandemic to adult education and learning. It is an interdisciplinary network of committed academics, practitioners, policymakers and advocates who engage in promoting adult literacy, lifelong learning and active citizenship in the Philippines.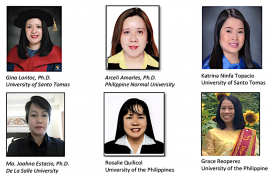 As a recipient of the Seedcorn Grant from the British Association for International and Comparative Education (BAICE), Transformare will work with organizations from Afghanistan and the United Kingdom.
The proposed project, "COVID-19 and its impact on Adult Learning and Education: a scoping research in the UK, Afghanistan and the Philippines" aims to explore the (potential) effects of the pandemic to adult learning and education programs by drawing from reflections on contrasting contexts of the three countries.
This project will be managed by the British Association for Literacy in Development (BALID) and will be led by Dr. Ian Cheffy from Summer Institute of Linguistics (SIL) and BALID, in collaboration with UEA UNESCO Chair team. Findings from this research will form part of a policy brief which contains recommendations to the governments concerned on the means by which governments and non-state actors could be able to take into consideration the needs of adult learners as COVID-19 continues to rampage.
The project lead of this research in the Philippines is Gina M. Lontoc, Ph.D of the Research Center for Social Sciences and Education (RCSSED) of the University of Santo Tomas and the President of Transformare. Members of the research team are its officers from various universities namely, Arceli Amarles, Ph.D. (Vice President) from the Philippine Normal University, Katrina Ninfa Topacio (Secretary) from the University of Santo Tomas, Ma. Joahna Mante-Estacio, Ph.D. (Treasurer) from De La Salle University, Rosalie Quilicol (Auditor) and Grace Reoperez, Ph.D., both from the University of the Philippines.
Transformare was launched on November 21, 2019 during the 1st Gender, Adult Literacy, and Active Citizenship for Social Transformation (GALACST) International Conference which was held at the University of Santo Tomas, Manila in November of last year.