d
His Holiness Pope Francis appointed Thomasian Monsignor Arnaldo Catalan as the new Apostolic Nuncio to Rwanda in Africa. He was conferred the episcopal ordination at the Manila Cathedral on February 11, 2022.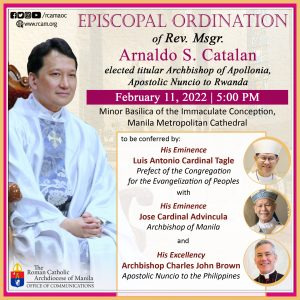 His Eminence Cardinal Luis Antonio Tagle, the Prefect of the Congregation for the Evangelization of Peoples, was the principal consecrator, accompanied by the Apostolic Nuncio to the Philippines His Excellency Most Rev. Charles John Brown, KC*HS, and the Archbishop of Manila His Eminence Most Rev. Jose Cardinal Advincula, D.D..

Rev. Msgr. Catalan, now Archbishop of the Titular See of Apollonia, is the first priest of the Archdiocese of Manila to become a Nuncio, Cardinal Advincula said in a statement. His new post was first announced by the Archdiocese of Manila on January 31, 2022.

Before his latest appointment, he was Chargé d'affaires of the Apostolic Nunciature in China in 2019. Prior to that, he was the first counsellor of the Apostolic Nunciature in Manila.

Msgr. Catalan is the latest Thomasian to be appointed to a Nunciature. He joins Archbishop Bernardito Cleopas Auza, D.D., who was most recently the Apostolic Nuncio to Spain and Andorra in 2019.