"Sundays with Domingo" was co-authored by Asst. Prof. Pia Patricia P. Tenedero, Ph.D. of the Faculty of Arts and Letters and missionary priest Fr. Dom Flores, SVD. Inspired by Mitch Albom's international best-seller Tuesdays with Morrie, Tenedero co-narrates the adventures of the 90-year-old Filipino Divine Word missionary from Abra to Australia. Pia and Fr. Dom met and became friends during her four-year stay at the SVD-owned student accommodation in Marsfield, New South Wales during her PhD candidature.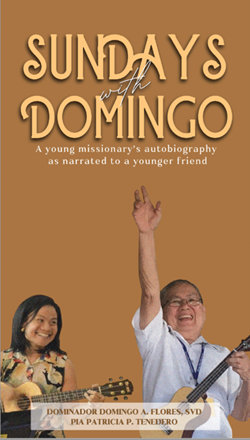 The pocket-sized vocation storybook was virtually launched on September 4, 2022 in an intimate Zoom gathering that brought together the authors' family and friends from the Philippines, Australia, and the United States. Among those who graced the event are Asst. Prof. Ailil Alvarez (Director of the UST Publishing House), Fr. Viet Nguyen, SVD (SVD Australia Province Mission Secretary), Fr. Randy Flores, SVD (Parish Priest of the Sacred Heart Parish Shrine in Kamuning, Quezon City), and Fr. Tony Moreno, SJ (former Provincial Superior of the Philippine Jesuit and current President of the Jesuit Conference of Asia Pacific). Both Fr. Randy and Fr. Tony are nephews of Fr. Dom. Pia's cousins from the Diocese of San Jose, California were also present—Fr. Mike Gazzingan and Fr. Mark Gazzingan, who attended the UST Central Seminary and UST Graduate School, respectively.
This personal collaboration is also a charity mission. All proceeds from the book sales will support several charity and vocation initiatives in the Philippines and Australia. The primary beneficiaries are the Alternative Learning Systems run by the Arnold Janssen Catholic Mission Foundation, Inc. for out-of-school youth, indigenous communities, and the elderly in Tagaytay, and the reconstruction of a temporary chapel for the parishioners of the St. Catherine of Alexandria Church in Tayum, Abra, that was heavily damaged by the 7.0 magnitude earthquake on July 27, 2022. A portion of the book sales in Australia will be allocated to various vocation and charity projects of the SVD Australia Mission Office.
Tenedero's first non-academic book project was part of Logos Publications' new titles. It is also available through Shopee and Lazada for only Php 150.