The UST SIMBAHAYAN Community Development Office held Dunong Tomas 2021, an advocacy program with the theme "Yamang Kaalaman sa Panahon ng Pandemya." The webinar was held from May 29 to 31, 2021, through Zoom.
Spearheaded by the Community Development Coordinators of the UST College of Education, UST Institute of Information and Computing Sciences (IICS), UST Senior High School, and UST Junior High School, the webinar featured talks from both faculty members and students on various matters concerning online distance learning and how both could cope with and adapt to these circumstances.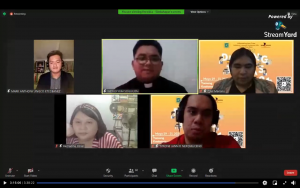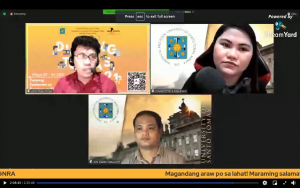 UST SIMBAHAYAN Director Asst. Prof. Froilan A. Alipao formally opened the event that was livestreamed through the SIMBAHAYAN's Facebook page.

Being one of the partner academic units, UST College of Education Dean Assoc. Prof. Pilar I. Romero, Ph.D., delivered her inspirational message to set the expectations of the audience on the sessions.

For the first session, UST College of Science Department of Psychology mentor Asst. Prof. Claudia S. Mendoza explained how parents could support and understand their children's hardships and needs in these trying times.
The afternoon session focused on youth experiences during the pandemic that was shared by

UST Faculty of Philosophy freshman, Seminarian Wesley Kim D. Soguilon. He talked about the feelings of the youth and their struggles, particularly regarding their education. Similarly, UST Junior High School Community Development Coordinator Ms. Bernadine Ann V. Obial showcased her talent in painting, a hobby that can entertain or help ease negative emotions resulting from personal problems of loneliness brought about by the limited physical contact with friends.

UST Senior High School Community Development Coordinator Mr. Tyrone Jann D.C. Nepomuceno motivated the students to discover their potential as faithful youth leaders in times of crisis. Finally, UST College of Nursing student Mr. Qjiel Mariano, an "Everyday Young Hero" awardee of the Youth Service America and known for his "Streets to Schools" project, shared his experiences regarding the project to inspire the students in the audience to bring about positive change in the community, regardless of age or status in life.

Since performances by students who belonged to organizations such as the glee clubs have likewise been put on hold, consonant to the topic of the webinar, the UST Junior High School Glee Club was asked to perform, providing the respite from the highly charged discussion.
On the second day of the event, Mr. Ian Nibalvos presented "Holistic Teacher Development", while Ms. Charlotte A. Malinao from the Department of Filipino tackled "Designing and Preparing Virtual Lessons."
On the third day of the webinar, a group of students from the Early Childhood Education Program of the College of Education, led by UST Elementary Education Society President Ms. Steffani Dinglasan, presented techniques, websites, applications, and multimedia programs that could be used as teaching aides for pre-school and elementary grades teachers.
Former UST CICS Community Development Coordinator Asst. Prof. Janette E. Sideño, Ph.D., with her expertise as a Computer Science and Data Science mentor, presented her lecture on "Virtual Teacher Assistance."
The program concluded with expressions of thanks addressed to each other by the participants, speakers and organizers.