Engr. Angelito A. Silverio, PhD led his colleagues in the Department of Industrial Engineering in presenting award-winning posters and papers in the August 25-26, 2021 Second Nagoya City University Contact Points Symposium in Asia, which bore the theme "Thinking about SDGs – Designing Healthy Work Environment".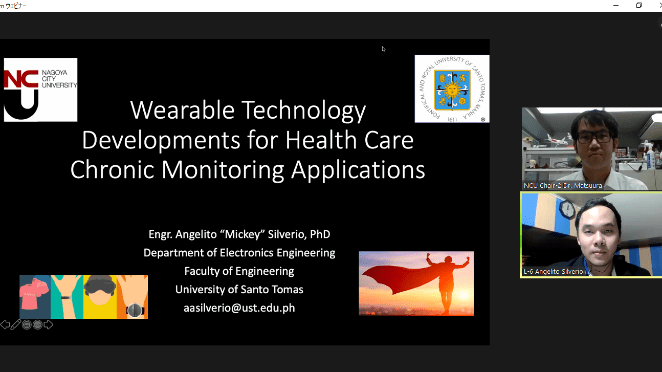 Silverio won Second Place for his poster presentation entitled "Development of a Wearable System for Fall Detection and Physiological Signs Monitoring," which was co-authored with Mhar Ian Estayan, Edgardo Giuseppe G. Catambing, Carl Anderson Lei Yee. Meanwhile, Engr. Gabriel C. Bucu, CIE, AAE won Fourth Place in the same competition, this time for his poster entitled "Establishing a Procurement Model in Philippine Barangay Health Centers Using an Integer Linear Programming Model." Bucu's co-authors were Glenn Gerald Castañeda, Keziah Marella Cueto, Clara Franchesca Mendoza, and Angeline Nicole Regalado.
An Industrial Engineering faculty member likewise won Second Place in the Excellent Poster (Audience Choice) competition. Assoc. Prof. Carlos Ignacio Jr. P. Lugay, PhD, PIE, ASEAN Eng. won the distinction for his poster A Comparative Study on the Human preference and the Nutritional Value between Mung Bean Chips and Common Commercial Snack Food. This was co-authored with Adonis S. Clet, David Lorenz M. Dometita , Fredric L. Go, Ericson F. Niones.
Other posters presented in the same event were entitled "Customer Satisfaction among Private Tertiary Hospitals" by Assoc. Prof. Joehanna K. Ngo, PhD, PIE, ASEAN Eng., Charlie A. Marquez, Michael Jon L. Chang, Jose Luis Razon, and Trishia Denisse Torres. Ngo likewise presented the poster entitled "Quality Assessment by Users of a Philippine Public Library," which she co-authored with Alliah Roi Bernardino, Kiara Marie Bool, and Sheena Justo.
Lugay likewise presented the poster entitled "A Study on the Effect on Customer Perception, Attitudes and Purchase Intention of Food Establishments with Persons with Disabilities as their Employees," which was co-authored with Rane Eon B. Carreon, Russel Brendan G. Gupit, Leslie Marie M. Montecillo, and Bianca Mariko O. Quizon.
Finally, Bucu presented two other posters. The first was co-authored with Alexis Joseph M. Baarde, Rosarie Joy C. Balneg, Lara Isabelle P. Cabral, and Maria Jocelyn B. Cerezo and was entitled "Establishing an Optimal Model on the Total Implementation Cost in Preventing the Occurrence of Dengue Outbreak in the Barangays of Lipa City, Batangas using Integer Linear Programming." The other one was co-authored with Polo Miguel D. Elefante , Julien Christiane N. Gicalao, Loreto K. Jaen II., John Danyael B. Taguinod and was entitled "An Integrated Application of Integer Linear Programming and Ergonomic Principles in Re-designing Disaster Go Backpacks for Adult Filipinos."