Four senior Bachelor of Secondary Education, major in English students of the College of Education's Department of Secondary Education bared their best practices and reflections in undergoing their blended Teaching Internship this academic year, during the November 25, 2022 (Friday) Junior Intensives virtual gathering of the Philippine Association of Language Teaching. Jireh Emmanuel Bilog, Justine Olaguera, Christine Ng, and Ariel Escoto represented the University in the nationwide gathering. 
Bilog and Olaguera co-presented "Daily Transitions from Onsite to Synchronous and Back: Managing Modalities, Tasks, and Discussions," which bared how the Education High School, the University's own laboratory junior high school, uses blended learning by alternating onsite and online sessions. The presentation focused on how pre-service teachers manage the experiences, which activities or tasks are better given onsite or online, and how they view such experiences.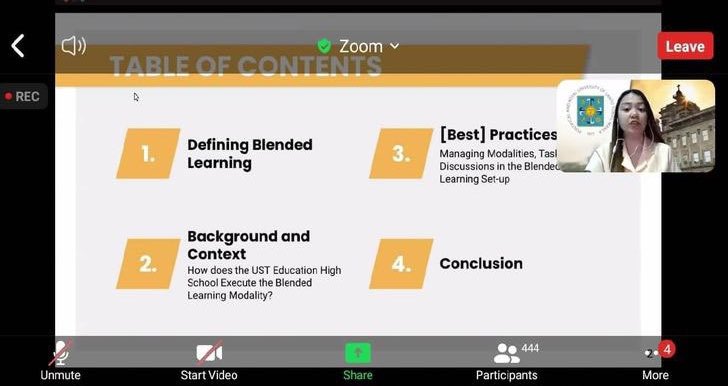 Meanwhile, Ng, the Lead Junior Adviser of the Rosarian, the EHS school paper, presented "Campus Journalism: Collaboration and Mentoring Space for Pre-Service Teachers and Staff Writers." The talk explored "how pre-service teachers and junior high school students use both in-person and online modalities to enhance journalistic writing skills and create published outputs." The presentation shared the writing and publication process and shows best practices on ensuring that the outputs are well-written and published.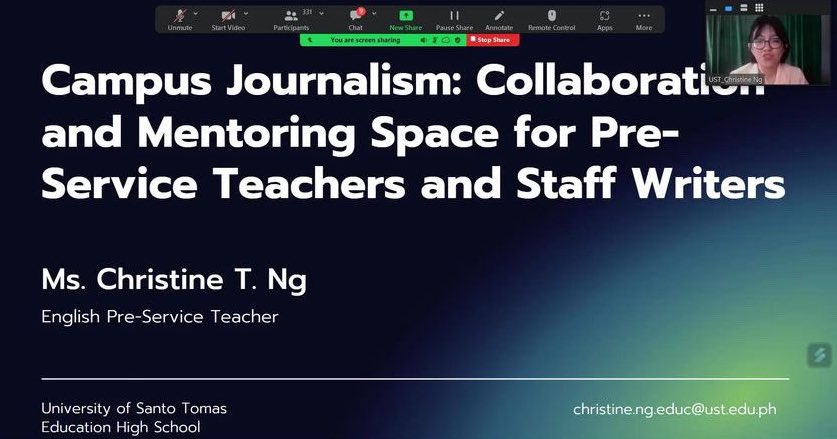 Finally, Escoto presented about "Supervisors-in-Training: Pre-Service Teachers as Grade-Level Coordinators for Big-Group Interns," where he documented the experiences of himself and three fellow pre-service teachers, namely, Olaguera, Anna Carmeleen Garcia, and Mareeyah Aragon, who are given an initial experience of being supervisors of fellow teachers by being grade level coordinators. The tasks assigned to these grade level coordinators and their reflections were presented, as these are an early exposure to possible educational leadership roles in the future.
The presenters are under the supervision of Asst. Prof. Philippe Jose S. Hernandez, Supervising Teacher for English.