Ten senior Bachelor of Secondary Education, major in English students from the College of Education presented five research papers at the International Conference on Applied Linguistics and Language Education (ICALLE) held last February 9-11, 2017 at the Br. Andrew Gonzales Hall, De La Salle University- Manila.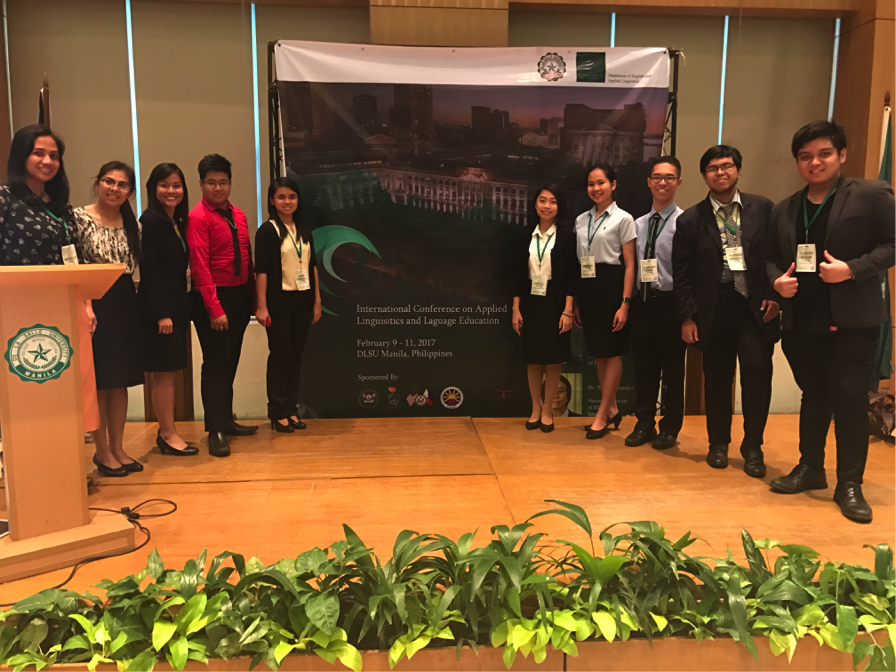 Asst. Prof. Rachelle B. Lintao, PhD of the Department of English of Faculty of Arts and Letters, served as the students' language research adviser.
Danica Marie I. Cardenas, Hezekiah Louie R. Zaraspe, and Shawn Luis S.A. Asuncion's study titled, "Conversation Moves in Alex La Guma's 'A Matter of Taste': A Stylistic Analysis", explored how the themes in the short story about a post-apartheid society were extrapolated through a linguistic analysis.
Anavill C. Barroso and Pamela R. Llamedo presented an action research titled, "Just Tweet It: Using Twitter as a Supplementary Tool for Vocabulary Building". The paper showcased on how popular social media platform Twitter be used in integrating technology in the classroom.
Patrick Ernest C. Celso and Elyssa Joy M. Deluyas's study, "Interpreting Philippine Road Signs in English and Filipino among Grade 7 Students", discussed linguistic relativism, and semiotic analysis on how selected high school freshmen perceived road signs in both languages.
Precious Magdalaine C. Gatus pointed that secondary level students prefer print media than digital means for reading in her paper, "Digital reading preferences of selected high school students in the Philippines."
Dericke Duane C. Aguas and Ma. Samantha G. Dumlao identified the different levels of motivation in studying the English language in their study, "Selected Junior High School Students' Motivation in Learning English as a Second Language."
The International Conference on Applied Linguistics and Language Education brought together local and international researchers and educators in enriching language research, theory-building, pedagogy, and practice. The invited speakers for this second biennial event were Dr. Paul Kei Matsuda of the Arizona State University, Dr. Ken Hyland of The University of Hong Kong, and Dr. Willy Renandya of the National Institute of Education, Singapore.
This year's conference focused on sharing findings of applied linguistic research and their implications for and applications to language education in different contexts, facilitating the sharing of ideas about how applied linguistics can help language education foster enduring understanding among learners across levels, updating participants with innovative methods and strategies in teaching a language and assessing language learning, and helping in establishing a network of applied linguists and language educators throughout the world.