As the opening lecture to celebrate the college week of the University of Santo Tomas (UST) College of Science, the topic "Vaccine for COVID-19: What we know and what we don't know" was discussed online by vaccinologist and Takeda Pharmaceuticals International Medical Director Dr. Melvin J. Sanicas. The online discussion was held on July 6, 2020 and livestreamed through the 'UST-Science' Facebook page.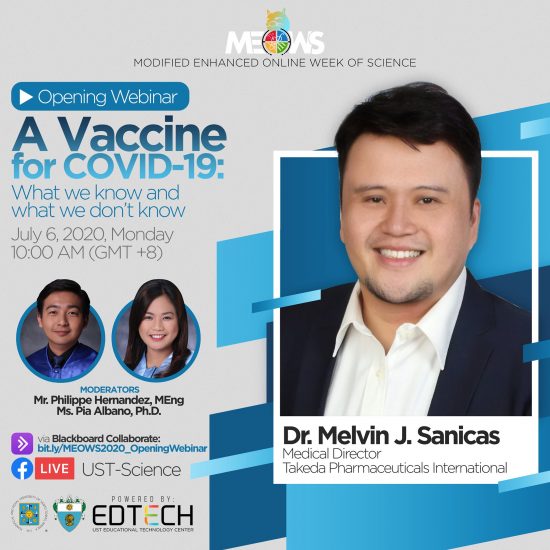 Before delving on his topic, Sanicas, a physician and a scientist, first gave an update on the COVID-19 situation. This was followed by his discussion on the difference between vaccines and drugs, the types of vaccines available, the clinical development of vaccines, and the state of potential vaccines for COVID-19 in the clinical trial stage.
Since COVID-19 began its dreadful spread, finding vaccines that can neutralize its threat has been strongly anticipated, more so "now that the pandemic is accelerating," said Sanicas, pointing out that globally, the curve has not yet flattened, with over 11 million people still infected as of the webinar's airdate.
However, an initial challenge to be overcome, according to Sanicas, is that there are fewer vaccine manufacturers in comparison to the large number of intended vaccine recipients, the maintenance of temperature-controlled supply cold chain to keep the vaccine viable can pose difficulty in its distribution, and only a few countries manufacture their own vaccines.
On the state of a potential vaccine, Sanicas explained that around 150 vaccine candidates against COVID-19 are in various stages of preparation. The clinical development stage alone may typically take 10 to 15 years, as it is only part of a longer process including regulatory review and approval. More studies about efficacy and effects normally continue even after the vaccine is approved and licensed.
The lecture summarized the vaccine development process as, "In phase I, small groups of people receive the vaccine to evaluate the safety and reactogenicity and to collect immune response data. In phase II, the potential vaccine is given to people who have characteristics (such as age and physical health) similar to those for whom the new vaccine is intended. In phase III, the study is expanded and the potential vaccine is given to thousands of people and tested for efficacy and safety."
Sanicas acknowledged that the vaccine may not be ready soon, however, "We've saved several years [within the process of development] because we no longer need to spend much time in the discovery and pre-clinical stage. Of the 150 candidates in pre-clinical stage now, we expect them as well to move into clinical development stage this year, granting that they show that the vaccine has potential and that they have funds," he shared.
As commonly seen with previously developed vaccines, from around 150 candidates, one will be approved and licensed. But even when a vaccine is finally approved and licensed, there are still questions that will remain, said Sanicas, such as: On efficacy — What are the effect/s of the vaccine, how does it provoke immunity, and how long will its protection last? On operational issues — What is the temperature sensitivity of vaccine which can potentially adversely affect the ease of its distribution? Finally, on accessibility — How will the Philippines get access to the vaccine?
A physician-scientist with over 10 years of international experience in clinical research and development, regulatory and medical affairs, and program management of vaccines, Dr. Melvin J. Sanicas was a Global Health Fellow and Program Officer at the Bill & Melinda Gates Foundation where he launched the Collaboration for Tuberculosis Vaccine Discovery. He has written about infectious diseases and global health topics for the World Economic Forum, Project Syndicate, HuffPost, TED-Ed, and a variety of other publications. Currently, he is a partner at the Brighton Collaboration, a Fellow of the Royal Society of Tropical Medicine and Hygiene, and a Fellow of the Royal Society for Public Health.
UST College of Science Dean Prof. Rey Donne Papa, Ph.D., explained that the annual Science Week activities — now called Modified Enhanced Online Week of Science (MEOWS) — had been moved to a web-based medium, because "We wanted to ensure that we can continue to deliver quality education to our students in spite of the difficulties poised by this pandemic."
College of Science faculty member Prof. Pia Marie Albano, Ph.D., and Communications Bureau Assistant Director for Online Mr. Philippe Hernandez served as moderators of the webinar.
The webinar is publicly available through this link: https://www.facebook.com/193178557513642/videos/270944370994824/?v=270944370994824