Two graduating students from the Faculty of Arts and Letters,
Christopher Daniel Reyes and Lance Santiago, took part in the Harvard Project for Asian and International Relations (HPAIR) Harvard Conference held at Cambridge, USA from February 16 to 19, 2018.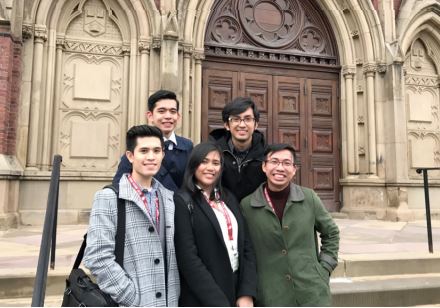 The HPAIR is Harvard's largest annual event for the Asia-Pacific region which had 300 delegates from across the world to tackle the most pressing issues in the Asia-Pacific region through dynamic and intellectually stimulating panels, seminars, and events. It is known as an avenue to discuss and engage young leaders in a sustained academic program, and the organizers gave them a new platform to learn from distinguished speakers and world leaders.

Reyes, a 4th year journalism student, and Santiago, a 4th year literature student, were both chosen to be panelists for the humanitarian affairs track.
Ashliley Lee, the executive director of HPAIR 2018, said that being selected from a highly selective pool of international applicants to attend entails that they are "extraordinary and students of the highest
caliber."
The application processes of the delegates were screened by looking at their
academic standing, work experience, and immense knowledge of pressing issues in the Asia-Pacific region, to name a few.

Some of the distinguished speakers who talked about the success of their
own journey and the companies they were affiliated in were: Jon Liechty, vice president for operations of Starbucks Asia Pacific; Caitlin Iles, Founder and CEO of XChange; and Mark Lippert, vice president for international government affairs of Boeing International.

The Harvard conference also held a forum to develop a deeper understanding of the world through unique perspectives that each delegate brought that can eventually integrate ideas and actions across the world.
This year's conference had six
panels: business and world economy;
entrepreneurship and technology;
environment and sustainability;
governance and diplomacy; health
and social policy; and humanitarian
affairs.
Reyes and Santiago who both
attended the same track tackled
humanitarian crises in the modern
era, from natural disasters and
famine to civil conflicts and internal
displacement.
Moreover, the humanitarian
affairs panelists were able to evaluate
the initial response of various
governments and non-government
organizations in times of humanitarian
crises and how to administer long
term aid after a disaster. Over the
course of the conference, international
delegates were successful in
communicating effectively with
one another and formed lasting
relationships to continually formulate
future solutions to world issues.