Professor Marc Eric S. Reyes, PhD, a faculty member of the Department of Psychology, received a Presidential Citation from the American Psychological Association (APA) on June 18, 2022, for his "exceptional leadership of psychology in the Philippines and globally, and particularly his dedication to social issues and his commitment to mentorship."

Reyes, the incumbent President of the Psychological Association of the Philippines, was cited as a "prolific psychological scientist" whose "exemplary leadership in applying psychology" has benefitted the cause of sexual and gender minorities. This has resulted in "battling stigma and discrimination as part of PAP's LGBT Special Interest Group." The said group has concretized their advocacy through nondiscrimination policies, high-quality researches, and pushing for anti-discrimination policies at the national level.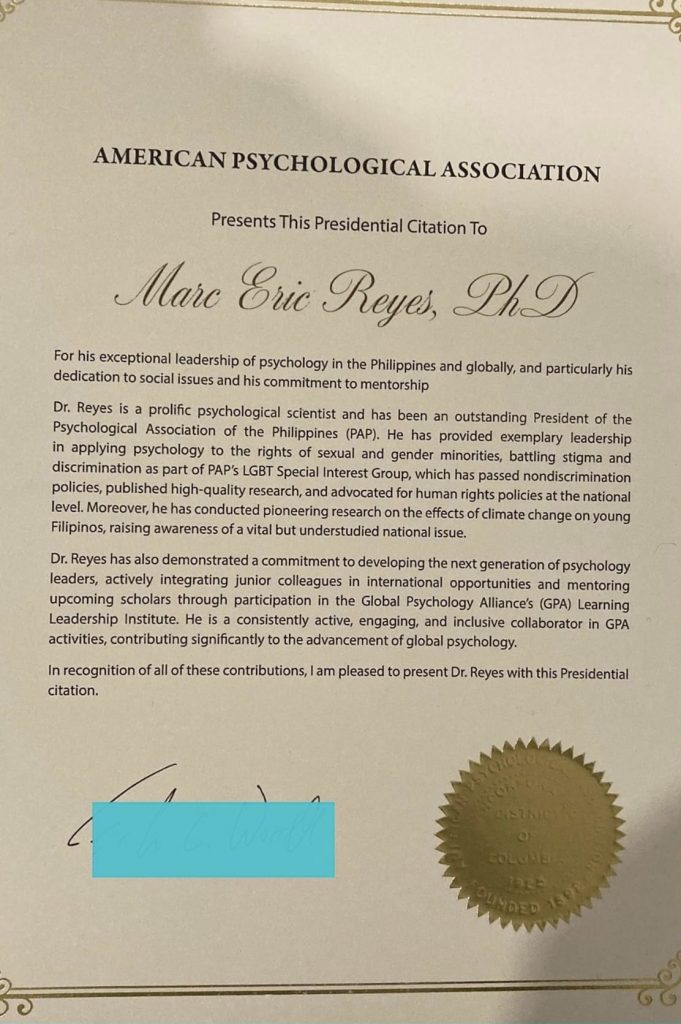 Reyes was also cited for his research endeavors on the effects of climate change on young Filipinos, "raising awareness [about] a vital but understudied national issue."
Among Reyes's research interests are psychopathology, LGBT issues, clinical assessment, and suicidology. He teaches at the College of Science and the Graduate School.