A team of researchers from the UST-Research Center for Social Sciences and Education (RCSSED) recently presented their study on assessing plastic material balance flow along Manila Bay to the media. Held online via Zoom and livestreamed through Facebook, the presentation was covered by representatives from various print, radio, TV, and online media institutions. Among them were: PTV 4, TV 5, GMA 7, ABS-CBN, DZBB, CNN Philippines, UNTV, and Business Mirror.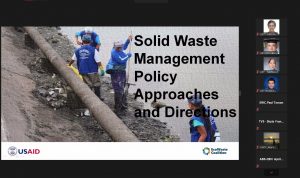 Prof. Arlen A. Ancheta, Ph.D., and Asst. Prof. Ronald Castillo of the Faculty of Arts and Letters along with Assoc. Prof. Moises Norman Z. Garcia, Ph.D., and Assoc. Prof. Maria Rosario Virginia Cobar-Garcia, Ph.D. of the College of Science make up the research team. For this study, they received a grant from the United States Agency for International Development (USAID) and EcoWaste Coalition and presented their findings for better reach of issue awareness and policy recommendation articulation.

In addition to the research project, the team has been engaging stakeholders toward the practical goal of environmental advocacy and care for creation.

The UST RCSSED Sustainability Studies team advocates for local democracy through community stakeholder participation, along with Extended Producer Responsibility (EPR) through the involvement of business stakeholders in the policy making and implementation process. The team has previously presented to stakeholders, particularly local government units where the sites of the study were located. The next steps will be the presentation of their research to the Philippine Senate and House of Representatives to lobby with them with regard to better legislations for plastic-free Philippine waters.