UST Research Center for Culture, Arts, and Humanities Director Maria Alexandra I. Chua, Ph.D., presented her research on the Philippine music industry at the National Research Council of the Philippines (NRCP) Humanities Division webinar held on May 24, 2021, through Zoom.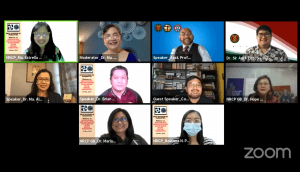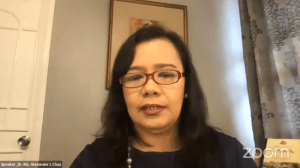 With the theme "Negotiation and Navigating Scholarship in the Digital Humanities," the webinar discussed how the digital humanities as a multidisciplinary field of study changing the nature of scholarly communication, faces not only the challenges of interdisciplinarity but also the difficulty of navigating the global scope of its practitioners.

Chua's study, titled "Framing the Study on Philippine Creative Music Industry/ies: Prospects and Challenges" focused on the current conditions and issues faced by the Philippine music industry, particularly the urgent need for developing a centralized Music Coordinating Council that will provide stable cultural support for the ever-growing music industry in the Philippines. Her research took on a preliminary assessment of the study of the Philippine music industry in discussing its theoretical and methodological ideas of cultural institution studies.

In particular, the study highlighted the use of an interdisciplinary approach in addressing the need for: music research plan, music studies in the different regions, property protection on intellectual rights of artists, innovation in public policy for the arts, and deeper musicological research of the Philippine music industry.

The webinar featured as its guest speaker the House of the Representatives Chairperson for the Committee of Creative Industry and Performing Arts Cong. Christopher de Venecia. In addition to Dr. Chua, NRCP members Asst. Prof. Gregg S. Lloren and Dr. Brian S. Bantugan also presented papers.