UST Office of QS/THE Rankings Deputy Director Engr. Nestor R. Ong was one of the keynote speakers in the webinar on the International Ranking System at the Philippine Normal University held on November 26, 2021. The discussions focused on the "QS Stars and THE Impact Ranking Systems: A Preliminary Discussion Towards Participation in QS Stars Rating and THE Impact Ranking System."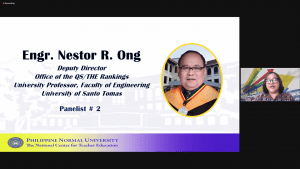 Ong's keynote speech titled "Going Beyond Local Accreditation" cited UST's QS Stars journey as the first and only university in the Philippines to be rated 5 Stars by QS London. He encouraged his audience to pursue the internationalization accreditation in enhancing and uplifting the quality assurance of PNU's education system as against international standards.

Having been established in 1901, PNU is known as the oldest teacher-training institution in the country.
The presentation was divided into three parts, the first part was the challenges and opportunities based on current trends in Higher Education Institutions (HEIs) around the world. This included the internationalization challenges related to rankings and ratings, a framework of the UST's EQMS (Educational Quality Management System) for excellence, several rankings and ratings, and a comprehensive approach to the definition of a World Class university.

The second part focused on understanding the QS Stars Rating System and Creative Branding.
QS/THE Rankings Office Assistant Vien Vic G. Flores presented and discussed the high-level QS Stars Rating methodologies.

The last part of the presentation was about UST's success in tackling the QS Stars Rating challenge for three cycles, and UST's best practices.

Ong ended his speech with words of motivation for his audience, saying: "We do not want you to be only inspired, we want you to take action, action necessary to achieve the goal of PNU to be QS Stars rated by QS London!" This was followed by a Question-and-Answer portion.