Degrees
Doctor of Philosophy, major in Biological Sciences, University of Santo Tomas – Manila, Philippines, 2018
Master of Science in Microbiology (Magna cum Laude), University of Santo Tomas – Manila, Philippines, 2004
Bachelor of Science in Medical Technology, University of Santo Tomas – Manila, Philippines, 1999
Non-Degrees
Diplomate, Philippine Society of Microbiology
Focused on Bacterial Viruses or Bacteriophages as alternative to antibiotics to answer the increased rate of emergence of antibiotic resistance.
Main goal is to increase the knowledge of Phage Biology in the Philippines
Isolation of Novel Phages from different habitats and the determination of their role in maintaining the balance of ecosystems
Bacteriophage Therapy in animal models specifically in aquaculture, industry and medical field
Addressing Antibiotic resistance by using phages as an alternative treatment
Effectivity of phages versus leading antibiotics being used as treatment to different infectious diseases
Phage Taxonomy and Systematics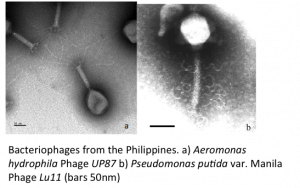 Bacteriophage Ecology, Aquaculture, Therapy, and Systematics
Grant Recipient, CHED Dissertation Grant with Laboratory for PhD in Biological Sciences, 2015
Grant Recipient, BCDA-DOST PCIEERD for PhD Research Internship at the Felix d' Herelle Reference Center for Bacterial Viruses and Laboratoire de Sylvain Moineau, Universite Laval, Quebec, Canada, 2015 (c/o Canada Research Chair grant under Sylvain Moineau)
Grant Recipient, DOST-JSPS and National Research Foundation of Korea – AsiaHORCs Joint Symposium on Nov 2012, Buyeo, South Korea
Principal Investigator, CHED-ZRC Grant May 2011 – April 2012
Finalist, L'Oreal For Women in Science, 2012
Member- Mathematical Society of the Philippines (NCR & National)
Professional Member – Association for Computing Machinery
Reviewer/Member of Technical Committee, 4th International Conference on Computer and   Communications Systems (ICCCS 2019); 7th International Conference on Smart Computing and Communications (ICSCC 2019); 3rd  International Conference on Computer Science and Application Engineering (ICCSAE 2019)
Donna May A. Dela Cruz-Papa, Charli Mae G. Candare, Gene Lorenze S. Cometa,Dominique Elloisa G. Gudez, Anna Marielle Isabella T. Guevara, Ma. Bianca Therese G. Relova and Rey Donne S. Papa. Aeromonas hydrophila Bacteriophage UP87: An Alternative to Antibiotic Treatment for Motile Aeromonas Septicemia in Nile Tilapia (Oreochromis niloticus). PHILIPP AGRIC SCIENTIST ISSN 0031-7454. Vol. 97 No. 1, 82–87.March 2014.
Donna May A. Dela Cruz-Papa, Justine R. Baquiran, Christelle J. Pineda, Lindley C. Susi and Rey Donne S. Papa. The Treatment Of Motile Aeromonas Septicemia In Nile Tilapia (Oreochromis Niloticus) Using Phage Cocktail Therapy With Notes On The Isolation And Description Of A Novel Phage B614 " PHILIPP AGRIC SCIENTIST ISSN 0031-7454. Vol. 100, No. 3. 324-331. September 2017.
Donna May A. Dela Cruz-Papa, Rey Donne S. Papa, Dino Tordesillas, and John Carlo Briones. Earth and Life Sciences: Knowing and Understanding Nature. Reference book for Grade 11. 2016. Publisher: ABIVA Publishing.
© Copyright 2020 . UNIVERSITY OF SANTO TOMAS. All Rights reserved.
Powered by: UST COMMUNICATIONS BUREAU