Ana Ruby M. Paez was the Chairperson of the Teacher Education Department of the University of Santo Tomas (AY 2014-2015; 2015-2016). She likewise served as a Coordinator for Biological and General Sciences (2006-2009), Supervising Teacher for Student Teachers specializing in Science at the UST-EHS (from 2001-2008), Member of the College Textbook and Learning Committee (2003-2004), and chair of various committee works in the college. She also worked as a Research Assistant of the UST Graduate School's Natural Science Laboratory from 1999-2000.

Prior to being a College Professor, she has eight years of experience teaching science subjects in High School, and actively served as a class and club adviser at Sta. Isabel College (Manila) Basic Education Department from 1993 to 2001, where she also held various positions as Assistant Principal (October 2001), Principal Council's Secretary (2001), Science Area Chairperson, Grade Level Moderator (1995-1998), Vice President of the Faculty Club (1998-1999), Cooperating Teacher of student teachers from DLSU (Manila) and Chair of the S.I.C. PAASCU Team.

Ma'am Paez obtained her Master of Science Major in Biological Sciences (Magna Cum Laude), and Bachelor of Secondary Education Major in Biology and Chemistry with special recognition as one of the most dedicated student teacher of her batch (1993) at the University of Santo Tomas. At present, she is pursuing her Doctorate degree in Education with specialization in Curriculum and Instruction at the University of Santo Tomas.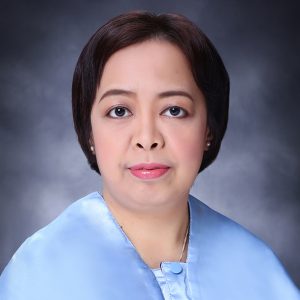 Asst. Prof. Ana Ruby M. Paez, MS
Department of Secondary Education | Office for Student Affairs
Degrees
Master of Science in Biological Sciences, University of Santo Tomas – Manila, Philippines, 2001
Bachelor of Secondary Education, major in Biology and Chemistry, University of Santo Tomas – Manila, Philippines, 1993
Courses Handled / Professional Activities​
Undergraduate Level
Biological Science
Field Study
General Zoology
Principles of Teaching
Science, Technology, and Society
Special Topics
Assistant Director, University of Santo Tomas Office for Student Affairs
Member, Philippine Association of Administrators of Student Affairs (2017)
Member, Philippine Association for Teacher Education (2014-2015)
© Copyright 2020 . UNIVERSITY OF SANTO TOMAS. All Rights reserved.
Powered by: UST COMMUNICATIONS BUREAU