Research Center for Natural and Applied Sciences researcher Assoc. Prof. Maria Ruth B. Pineda-Cortel, PhD and Prof. Edilberto P. Manahan, PhD, faculty members of the Department of Medical Technology, were honored in the 2021 Philippine Association of Schools of Medical Technology and Public Health, Inc. (PASMETH) Educators Awards of Excellence. The virtual program was aired on September 30, 2021.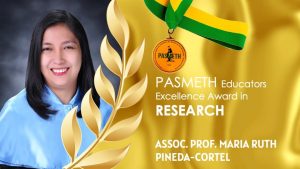 In recognition of her research expertise, Pineda-Cortel was feted with the 2021 PASMETH Educators Excellence Award in Research.
In her message, Pineda-Cortel shared her passion in teaching and in research. She also spoke about the importance of embracing new opportunities for a higher purpose. "Some of our dreams may not be achievable and yet, new opportunities will definitely come to our life—opportunities given by our Lord God to lead us to a better road where we can be of greater service," she said.
She specializes in gestational diabetes mellitus, specifically the analysis of gene expressions from patients who have contracted it. Her research interests also include dengue and malaria, as well as climate change. 
Pineda-Cortel serves as the Laboratory Coordinator of the Department of Medical Technology and teaches at the Graduate School.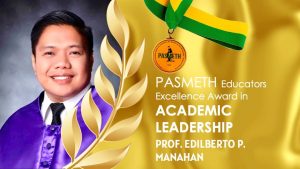 Meanwhile, Manahan received the 2021 PASMETH Educators Excellence Award in the field of Academic Leadership for steering the BS-Medical Technology program to academic excellence, despite the COVID-19 pandemic.
"[The Covid-19 pandemic] has been a learning opportunity. We learn new ways of delivering lessons and even found way to conduct our students internship. This is where administrators must learn to bring everyone on board," Manahan said in his message.
"We must acknowledge that no suggestion is ever irrelevant as we experience new things at different levels. Remember, teamwork will always work. Receiving this PASMETH Educators Award of Excellence for Academic Leadership is timely. [It is] a reminder that the work we do now has a lasting impact," he added.
Under his leadership, the BS-Medical Technology program has showcased excellent performances in the annual Licensure Exams. Moreover, the program has received coveted recognitions such as the Level 4 of Accreditation, the highest rank given by the Philippine Association of Colleges and Universities Commission on Accreditation (PACUCOA), and the Center of Excellence (COE) grant from the Commission on Higher Education (CHEd). It likewise received the coveted ASEAN University Network Quality Assurance Group certification.
Watch the 2021 Philippine Association of Schools of Medical Technology and Public Health Educators Awards of Excellence here: https://www.facebook.com/pasmethinc/videos/1065946427509136/