Three Thomasians participated in the 34th Congress of the International Society of Limnology (SIL) held from August 19-24, 2018 at the Nanjing International Expo Convention Center, Nanjing, China. This is the first time since 1980 that the meeting has been held in Asia. The society, founded in 1922, is the oldest and only international scientific professional organization of limnologists in the world.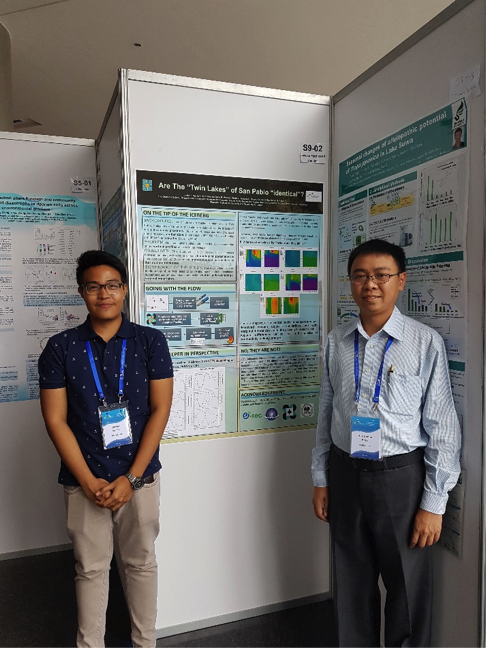 The Philippine delegation to this year's congress included Prof. Rey Donne S. Papa, PhD, Chairperson of the UST Department of Biological Sciences and a researcher at the Research Center for the Natural and Applied Sciences; Mr. Jaydan Ferdinand Aguilar, M.Sc. Biology student; and Mr. Eric Zeus C. Rizo, an alumnus of the M.Sc. Biology program and currently a Ph.D. Hydrobiology student in Jinan University, Guangzhou, China.
Papa presented a paper entitled "Monsoon-based variations in the vertical profile of selected limnological parameters in in the Seven Maar Lakes (SML's) of Laguna (Luzon Is., Philippines): A unique insight into the limnology of tropical maar lakes" during the Global Lessons from Lakes around the World session. This paper was co-authored by Jaydan Aguilar, Pauline Cootauco, Jose Antonio De Guzman, Princess Amabelle Mauricio, Clara Therese Remperas and Noboru Okuda.
Meanwhile, Aguilar presented a research poster entitled "Are the "Twin Lakes" of San Pablo "identical"?". His co-authors are Karol Sophia Padilla, Milette Mendoza, Noboru Okuda and Rey Donne Papa.
Both researches were conducted under the auspices of a collaborative research project between the University of Santo Tomas and the Research Institute for Humanity and Nature (Japan) funded by the Japan Society for the Promotion of Science (JSPS).
Lastly, Rizo presented a paper during the Scales and Aggregation in Cross-Lake Analysis session. His paper, entitled "Global body size distribution and variability in Cladocera" is one of the many research projects he is conducting in the Institute of Hydrobiology, Jinan University. Mr. Rizo maintains active research collaborations with the Zooplankton Ecology, Systematics and Limnology (ZESL) research group led by Dr. Papa at the University of Santo Tomas and is co-author of the said paper.
Philippine-based researches in the field of limnology – the scientific study of freshwater as ecosystems – are still technically in their infancy in the country, but have seen great activity in the University of Santo Tomas in recent years. The university hosted the first-ever Philippine Symposium on Freshwater Biodiversity and Ecosystems (PSFBE) last June 7-10, 2016 – an event which was supported by SIL. This year, the second installment of the PSFBE will take place at the University of the Philippines – Diliman from December 11-14, with UST as co-organizer of the biennial event.