Dr. Francis Lawrence B. De Jesus, Chair of the Department of Marketing Management of the College of Commerce and Business Administration, along with BSBA major in Marketing Management students presented papers in the Chung Yuan Christian University, as part of the two universities' joint academic venture, which bore the theme "International Discourse in the Retail Environment of the Philippines."
De Jesus presented the paper "Assimilation of International Consumer Products in the Philippines as a testament of Modern Cultural and Economic Integration in Asia". The primary paper is a collaborative work with students from the Marketing Management Department.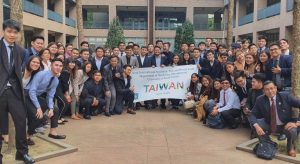 Students likewise presented their papers in the said event. Leanne Christine A. Gono, Van Kevin L. Li, and BJ I. Mercado presented their paper "Taiwan's influence in the food retail industry of the Philippines," while Angelu Alcaraz, Keith Bonus, and Jellah Ricalde presented the paper "A comparative analysis between western and asian influence in the retail sector of the Philippines." Finally, John Simon E. Abraham, Isabela V. Bacay, Kristian George M. Hinanay presented the paper "Asian Countries abs Its Influence on the Non-food Retailing Environment of the Philippines."
The academic trip also includes benchmarking with the Chung Yuan Christian University and Ming Chuan University, MICE Industry Immersion with Interplan Corporation, a visit of the Taiwan Food and Beverage Expo, and a curricular retail audit program of the Taipei Retail Consumer Environment.