UST Archivist Prof. Regalado Trota Jose, MCH launched his latest book entitled "Simbahán: An Illustrated Guide to 50 of the Philippines' Must-Visit Catholic Churches" through RPD Publications.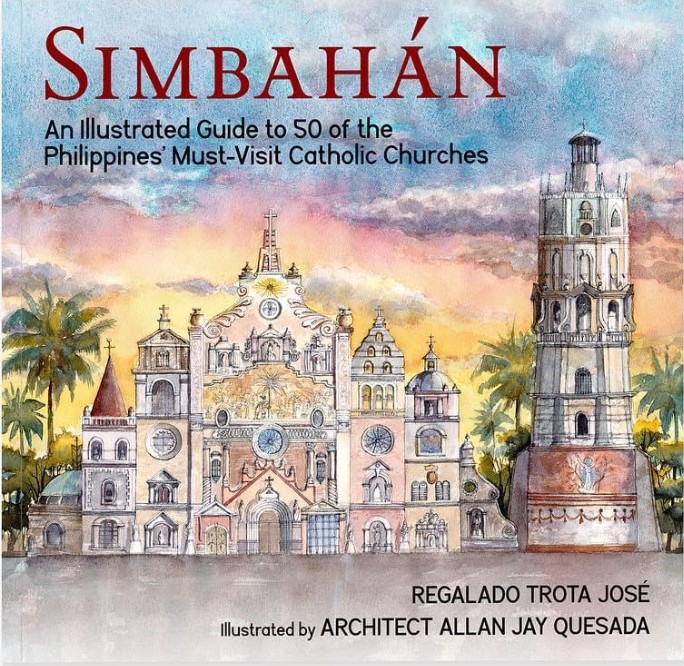 With illustrations by Architect Allan Jay Quesada, the book features 50 of the most notable churches in the country, spanning those from the Cagayan Valley Region to Mindanao, particular those churches dating from the Spanish period to the mid-20th century.
According to Jose, the churches were selected for their cultural, architectural, and aesthetic significance, as well as their picturesque locations. Some of the churches featured in the book were Church of Saint Raymund Peñafort in Cagayan; Church of Saint Paul the Hermit in San Pablo, Isabela; Church of Saint Catherine de Alexandria in Tayum, Abra; Minor Basilica of Our Lady of Charity in Agoo, La Union; Church of Saint James the Great in Bolinao, Pangasinan; Church of Saint William of Aquitane in Bacolor, Pampanga; and National Shrine of Our Lady of Perpetual Help, known as the Baclaran Church in Parañaque.
An authority of Philippine church art, Jose's previous publications were Images of Faith: Religious Ivory Carvings from the Philippines, Impreso: Philippine Imprints (1593-1811), Power, Faith, Image: Philippine Art in Ivory from the 16th to the 19th Century, Visita Iglesia Bohol: A Guide to Historic Churches, and Of War and Peace: Lantakas and Bells in Search for Foundries in the Philippines.
First featured in Tribune.net (Mr. Edgar Allan M. Sembrano)
Link to the original article:
https://tribune.net.ph/index.php/2021/01/19/take-me-to-these-churches/?fbclid=IwAR16u736kINYhMKHpBP2U0rRr8gEeSfkVB4w7yGQN5rIkAX2aWIpbM23LQ4