Three entrepreneurs who were able to rise above the challenges of the global pandemic shared their experiences on the Zoom webinar organized by the Entrepreneurial Marketing and Strategies class on April 30, 2022.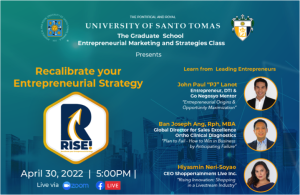 Titled "RISE: Recalibrate your Entrepreneurial Strategy," the webinar centered on how businessmen can maximize opportunities, manage risks, and be innovative to thrive within their chosen businesses. There were three invited speakers in the symposium.
The first speaker was an Entrepreneur, the DTI and Go Negosyo mentor Mr. John Paul "PJ" Lanot, followed by UST alumnus and the Global Director for Sales Excellence of Ortho Clinical Diagnostic Mr. Ban Joseph Ang, and former ABS-CBN artist, CEO and Co-Founder of Shoppertainment Live Inc., Hiyasmin Neri-Soyao.
Lanot discussed maximizing opportunities by listening to what your customers need and redesigning your business based on what suits the market. He shared that he was able to apply this to his own business during the pandemic by being flexible and adaptive to the changes in his environment. He emphasized starting small to expand the business gradually.
Ang's talk focused on managing risk while starting a business. He pointed out four reasons businesses fail –lack of operational cash flow, low customer demand, inadequate management, and ineffective business planning. For better and innovative management, he recommended leveraging the team's strengths and putting the best people on the biggest opportunities, not the biggest problems. Ang urged listeners to "identify your short-term and long-term business goals, focus on what capabilities, resources, and skills you currently have, and then build your goals. Most importantly, stay with your core business intent."
Neri-Soyao talked about "Rising Innovation: Shopping in a Livestream Industry". With her years of experience in hosting a home shopping show, she saw the gap in the entertainment market of home shopping. She acquired sponsors and built her own company that started only with three employees but grew to 60 employees in the middle of the pandemic. She continues to innovate her way through e-commerce using online platforms.
As an additional feature, interviews were conducted with various micro and small entrepreneurs who were also able to innovate, transform and recalibrate their strategies during the pandemic as an additional knowledge for the audience. A panel discussion followed the series of talks with the three speakers. As a parting message, Lanot, Ang, and Neri-Soyao highlighted the significance of having a mentor who can contribute wisdom and experience to a start-up business.
The event was attended by 272 participants from the academe and business community and was watched by over 1,000 people via Facebook Live. This event was opened with a message from Graduate School Dean Prof. Michael Anthony Vasco, Ph.D. and was concluded with the remarks of the Business Cluster Program Lead for Graduate School Prof. Elizabeth Recio, Ph.D. It was organized by the whole class of Entrepreneurial Marketing and Strategies with the course facilitator Prof. Esmeraldo Dimaculangan Jr., Ph.D.