Department of Financial Management landed as 2nd runner-up in the 9th National Investment Research Challenge sponsored by the CFA (Chartered Financial Analysts) Society, Philippines last February 16, 2017 at the Philippine Stock Exchange, Ortigas.
The team was composed of senior students in the program, namely, Jose Luis D.R. Afulugencia, Angelika S. Bondoc, Aleeza Mei B. Marcelino, Ma. Francesca D. Radojevic, and Lourdes Francesca D. Revadillo who were chosen from the applicants and was named, Atlas Investments who initially submitted a company analysis on Century Pacific Food, Inc. (CPFI).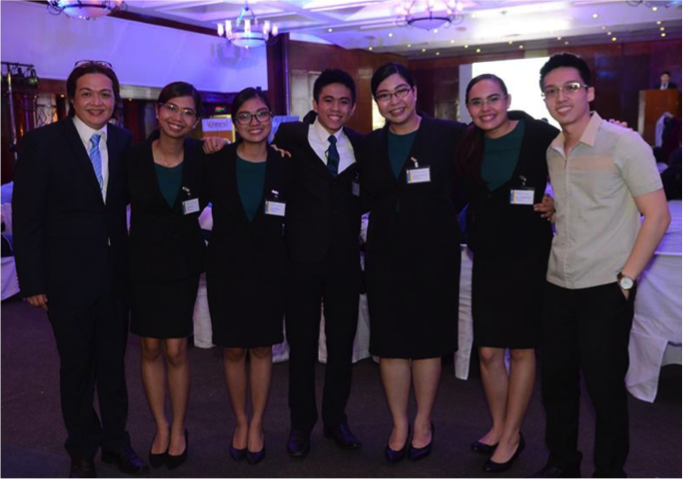 It was in the beginning of AY 2016-2017 when the academe announced the screening for those interested to represent the University. Candidates were tasked to make a short presentation on the subject company until the final five students were chosen. The first part of the competition was the submission of the team's written output, while the second part was the local finals presentation. For a team to advance in the local finals, it must belong to the top four schools qualifying for the written output. For over five months,the team was exposed to overwhelming amounts of data from different articles, past winning research papers, equity research papers, and the like. The team establisheda timetable as deadlines were very crucial. "Working on the research paper was a complex process, but in the middle of the process we found satisfaction and fulfilment. Every day was indeed a day full of learning." said Marcelino after finishing in the final round. With the help of their adviser, Dr. Anthony DC Altarejos, CB, CSS, and coach, Mr. Alvin T. Tan, they were able to meet the demands of the research. Through this, they were given the opportunity to grasp a number of learning curves as they rotated the assignment of tasks, from financial modeling to research writing, where every team member was able to learn every step of the process.