In celebration of the National Teachers' Month observed from September 5 to October 5 each year, the Department of Filipino under the College of Education, in cooperation with the Office of International Relations and Programs, held a Knowledge Exchange Series (KES) webinar entitled "Anong Bago: Ang Pagtuturo ng Filipino Bílang Pangalawang Wika sa Bagong Normal" (What's New: The Teaching of Filipino as a Second Language) on September 30, 2020. Livestreamed thru the official Facebook Page of the Department, the webinar aimed to update the participants on the latest trends and techniques on the teaching of Filipino as a second language (TFSL) and share some of the best practices in TFSL in light of online learning. Serving as resource persons of the KES were University of Hawaii at Manoa (UH Manoa) Assistant Professor Leticia Cantal-Pagkalinawan, PhD and University of Hawaii at Hilo (UH Hilo) Division of Humanities Chair and Associate Professor Rodney C. Jubilado, PhD.
Pagkalinawan began her lecture by introducing the demographics of Hawaii, a US state that is home to Asian ethnicities, with Filipino Americans comprising the most number, followed by Japanese Americans, Chinese Americans, and Korean Americans. UH Manoa, the institution where she teaches in, is the only HEI in the US offering a full-fledged degree program in Filipino: the BA Filipino Language, Literature and Culture. According to Pagkalinawan, Filipino Americans pursue programs and courses in Filipino language, culture, and literature to learn about their heritage language, discover the culture of their origin, and fully understand their identity. Meanwhile, non-Filipino students pursue the said programs and courses to establish a deeper connection with their Filipino friends and colleagues. Pagkalinawan then discussed some of the approaches she uses in TFSL, such as Project-Based Learning, Task-Based Teaching and Learning, and Flipped Classroom. She also shared the array of learner-centered technologies she employs in TFSL.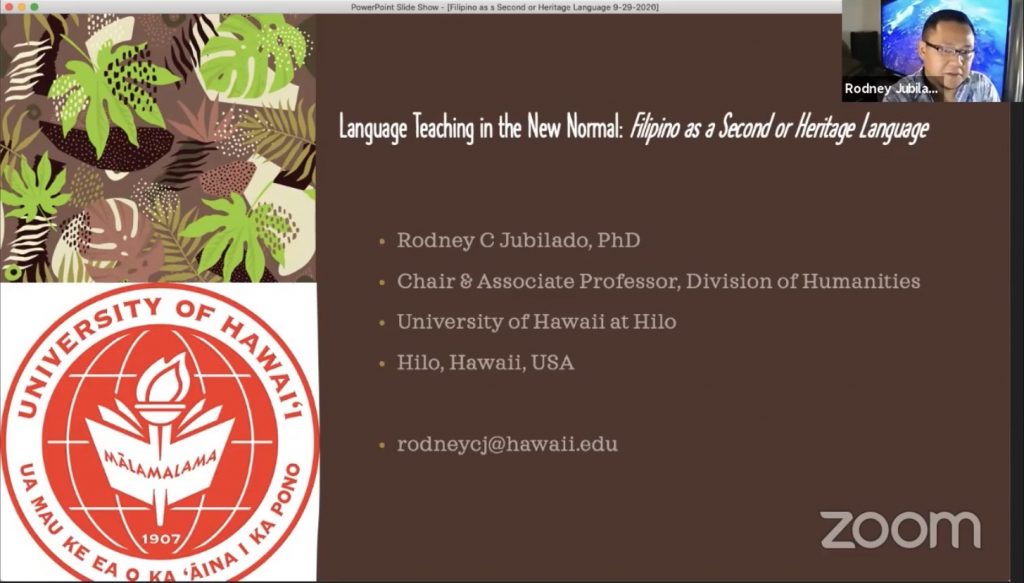 In his lecture, Jubilado discussed the value of considering the profile, migration history, family structure, and linguistic repertoire of learners to design effective language programs and courses. He provided benchmarks of TFSL by sharing the Filipino Studies Program and Curriculum of UH Hilo, which is basically culture- and natural resources-based. This was followed by the discussion of the fundamentals of a TFSL classroom, such as its syllabus, learning process, and expected outputs on the lexical, sentential, and discourse levels. Some of his suggested topics on TFSL include daily expressions and greetings, basic communicative acts in Filipino, giving description and instruction, basic Filipino grammar and vocabulary, and introduction to Filipino culture. Meanwhile, some of the strategies that may be used in TFSL are conversations, narrative essay-writing, workshops, and performances. Jubilado also emphasized that TFSL must be useful, significant and community-driven. UH Hilo does this by incorporating elements of global community and citizenship and service learning in TFSL.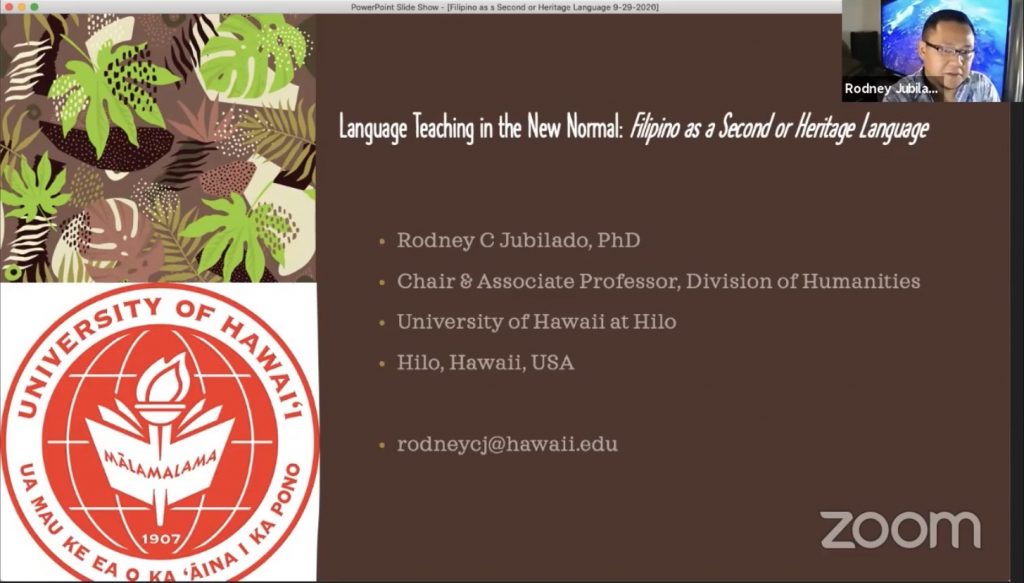 In her opening remarks, College of Education Dean Assoc. Prof. Pilar I. Romero, LPT, PhD recognized that we are living in a VUCA world, that is, vulnerable, uncertain, complex and ambiguous, and this VUCA world was exacerbated by the current pandemic. However, she encouraged the participants to be resilient, with a kind of resilience that is rooted from the heart. She further explained that the real "new normal" is our ability to respond to the challenges of forming new insights regarding language, especially on its power to affect not only the thoughts but even the feelings and decisions. She believes that language is a driving force that can change the VUCA world.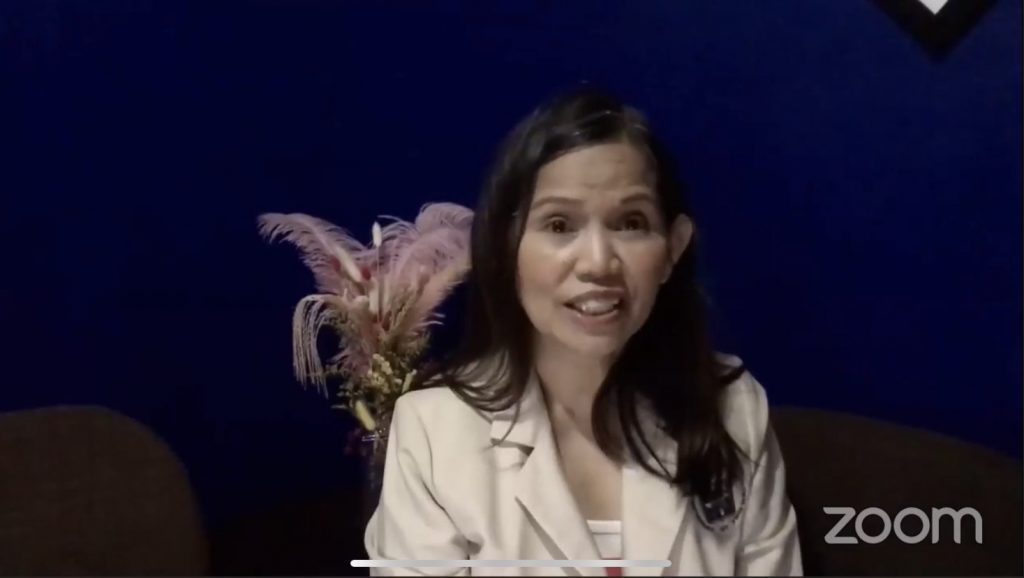 The two-hour-and-a-half KES also witnessed the launching of the International Virtual Conference on the Teaching of Filipino as a Second Language to be held on June 17-19, 2021. The event is co-organized by the UST Department of Filipino and the UH Hilo Division of Humanities and is one of the concrete programs borne out of the MOU recently signed by the two institutions.