UST Electronics Engineering (ECE) Department, in collaboration with the UST Research Center for Natural and Applied Sciences, and UST College of Rehabilitation Sciences developed iSULAT (Intelligent Stroke Utilization, Learning, Assessment and Testing), a project that received 3.2 million Php funding from the Department of Science and Technology- Philippine Council for Health Research and Development (DOST-PCHRD).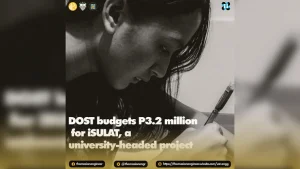 The handwriting tool project was headed by Engr. Edison A. Roxas, the UST ECE department chair.
In an interview, Engr. Roxas stated that the project idea was conceptualized even before the pandemic. When asked about what i-SULAT aims to be, he said that "The iSULAT envisions itself as the future standard in handwriting evaluation for the Filipino children."
He also mentioned that the project's main target is to assess developing school children's handwriting skills.
According to DOST Secretary Fortunato "Boy" de la Peña in a recorded report, the project aims to solve problems of inter-tool scoring variations, inconsistency, incongruence, and assessment time. He added that the number of handwriting problems in developing children reached an approximated 5 to 25 percent range.
"Handwriting is still the most immediate form of graphic communication. [F]ailure to attain handwriting competency during the school-age year results in far-reaching negative effects on both academic success and self-esteem," de la Peña said.
Furthermore, DOST-PCHRD mentioned that the project can be used to examine the handwriting of people suffering from various medical, neurological, and psychological illnesses including stroke, Parkinson's disease, Attention-Deficit/Hyperactivity Disorder (ADHD), dyslexia, and even early-onset depression.
The project will run from April 1, 2022 through June 31, 2024.
First reported in Thomasian Engineer