Faculty of Arts and Letters Dean Prof. Marilu R. Madrunio Ph.D., together with UST Department of English Chair Prof. Rachelle B. Lintao, Ph.D., Asst. Prof. Pia Patricia Tenedero, Ph.D., and Atty. Selenne Anne A. Leynes presented their papers during the 3rd International Conference on English Across the Curriculum (EAC) held from May 20 to 21, 2021, via Zoom.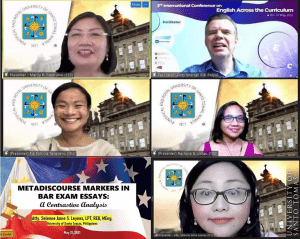 The two-day event was co-organized by a cross-institutional teams from The Hong Kong Polytechnic University, The Chinese University of Hong Kong, The Hong Kong University of Science and Technology, City University of Hong Kong, and Hong Kong Baptist University.

The paper of Dean Madrunio, Lintao, and Tenedero examined the reshaping of the English curriculum in higher education in the Philippines during the COVID-19 pandemic. Their study, focusing on the English language curriculum, explored online teaching as a "figured world" that "take[s] shape within and grants shape to the coproduction of activities, discourses, performances, and artifacts."

The research investigated the new system of comprehensive online teaching, which reshaped English language instruction in the Humanities and Social Sciences. It presented the thematic analysis of institutional documents such as university continuity plans, online teaching training materials, and memos that set the parameters for the digital staging of English language units offered in the focused disciplines.

Lawyer-English Language mentor Selenne Anne Leynes presented her paper titled "Metadiscourse Markers in Bar Exam Essays." Using a contrastive genre analysis method and Hyland's taxonomy, the study aimed to determine the metadiscourse markers present in Philippine Bar Exam Essays and New York Bar Exam Essays and the cultural features revealed by such use in the two writing communities.

As culture plays an essential and important role in defining writer characteristics in different writing communities, and as culture is dynamic, studies like this can help future Bar examinees to answer Bar exam questions with ease and confidence, and augment the troubling passing rate in the Bar examinations.

With over a hundred paper presentations, the conference brought together experts and colleagues from all over the world to share research and insights on English Across the Curriculum (EAC), Writing Across the Curriculum (WAC), and Content and Language Integrated Learning (CLIL).