s
UST Research Center for Social Sciences and Education researcher Prof. Allan B. de Guzman, Ph.D., presented three team studies at an international conference titled "Educating for Democracy in a Fragmented World" organized by the Gravissimum Educationis Pontifical Foundation. The event was held from March 17 to 19 at the Libera Università Maria Santissima Assunta (LUMSA) in Rome.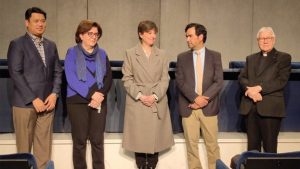 Gracing the international conference were Cardinal Giuseppe Versaldi, Prefect of the Congregation for Catholic Education; Prof. Isabel Capeloa Gil, President of the International Federation of Catholic Universities (IFCU/FIUC); Former Prime Minister of Benin Prof. Lionel Zinsou; Dr. Carlos Creus Moreira, President of Wisekey Cybersecurity; and Fr. Eric Salobir, O.P., President of the Optic Technology Research Network.

On the second day of the conference, Pope Francis met the conference participants in a papal audience on March 18. The Holy Father urged educators to "Feed young people's thirst for democracy, teach young people that the common good is formed with love, and educate young people to live authority as service."

"Exercising authority is not easy: it is a service. Let us not forget that God entrusts us with certain roles not for personal affirmation but so that, through our work, the whole community may grow," shared Pope Francis.

In relation to this mission, de Guzman presented studies on the role of social studies teachers in teaching democratic principles and civic engagement, namely, "Social studies teachers' ability to integrate social problems and issues and civic engagement in students' learning"; "Teachers' knowledge of 21st-century democracy holds the key for their delivery of promoting civic engagement in classroom settings"; and "Teachers' abilities to exercise practical-evaluative teaching methods and to contain their risk-taking behavior may help enrich school curricula's integration of civic engagement by students."

The studies are under the UST Local Antenna Team, which carries research and formation initiatives from the Gravissimum Educationis Pontifical Foundation's project titled, "Democracy: an educational urgency in pluricultural and plurireligious contexts." Joining De Guzman as the Philippine Local Antenna Coordinator are RCSSED Director Prof. Belinda De Castro, Ph.D. and Assoc. Prof. Joel Adamos, Ed.D.

In an interview by Vatican News conducted by journalist Fausta Speranza, De Guzman shared that "We believe that schooling will lead to democracy, because we still believe in the power of education… We are not only looking at individual benefits of education, but we would like to see that the learners we are producing can respond to the problems and concerns of Philippine society."

De Guzman further shared that, "Teachers are not the mere implementors of curriculum, but they must have a disposition to be able to lead in their respective classrooms."

Aside from LUMSA in Rome and UST in Manila, the participating universities were: Ukrainian Catholic University in Lviv, Instituto Universitario de Investigación Ortega y Gasset in Madrid, Università Cattolica del Sacro Cuore in Milan, the Catholic University of Mozambique in Maputo, Université Catholique d'Afrique de l'Ouest in Abidjan, Pontificia Universidad Católica de Chile in Santiago, Universidad Anáhuac México, Pontificia Universidad Católica del Perú in Lima, Pontificia Universidade Católica do Rio Grande do Sul in Porto Alegre, The Catholic University of America in Washington, D.C., Christ University in Bangalore, and Université Saint-Joseph in Beirut.