Department of Filipino faculty member Prof. Imelda Pineda De Castro, Ph.D., and research associate of the Research Center for Culture, Arts and the Humanities was awarded the Gawad Dangal ng Wika 2020 by the Komisyon sa Wikang Filipino (Commission on the Filipino Language), the sole government agency for language mandated to advocate the promotion, dissemination, and preservation of the Filipino language and other indigenous languages in the Philippines.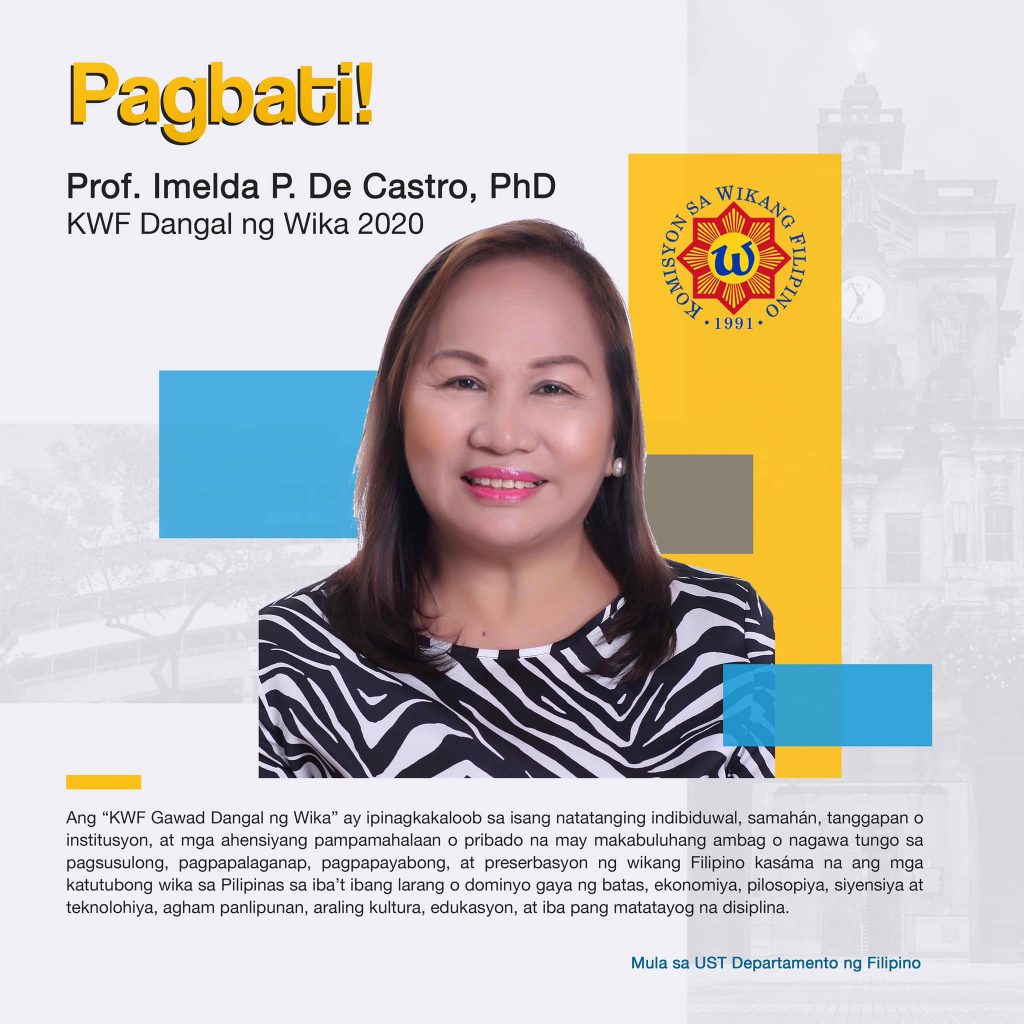 The KWF Gawad Dangal ng Wika is given to a distinct individual, organization, office or institution or a government or private agency that has made a significant contribution to the advancement, propagation, cultivation or preservation of the Filipino language and other indigenous Philippine languages in various disciplines or domains such as law, economics, philosophy, science and technology, social sciences, cultural studies, education and other branches of knowledge. The award was bestowed upon de Castro on September 21, 2020 through a virtual ceremony livestreamed via the official social media pages of KWF.
De Castro was recognized for her outstanding accomplishments in her 40-year career as an educator, researcher and administrator, which include her international publications on lexicography and cultural studies; authorship of textbooks on the teaching of basic Filipino for foreign learners; initiation of projects in UST that contributed to the intellectualization of the Filipino language such as the Hasaan National Conference, Jose Villa Panganiban Lecture Series, Jose Villa Panganiban Award, among others; and service as officer of national organizations in Filipino, such as being a member of the Executive Council of the National Committee on Language and Translation of the National Commission for Culture and the Arts from 2008-2012 and from 2017-present, and being a board member of the Sanggunian sa Filipino (SangFil).
Currently, de Castro also serves as the Editor of the Hasaan Journal, the official journal in Filipino of the University of Santo Tomas. The UST Department of Filipino, whose chair is Asst. Prof. Alvin Ringgo C. Reyes, is under the UST College of Education.